Plan de prevención dunha empresa de menos de 50 traballadores mediante a simplificación documental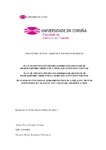 View/Open
Collections
Title
Plan de prevención dunha empresa de menos de 50 traballadores mediante a simplificación documental
Alternative Title(s)
Plan de prevención de una empresa de menos de 50 trabajadores mediante la simplificación documental
Plan for Occupational Risk Prevention in a SME, Less Than 50 Employees, By Means of Documentary Simplification

Author(s)
Directors
Rodríguez Vila-García, Beatriz
Date
2015
Description
Traballo fin de grao (UDC.FCT). Relacións laborais e recursos humanos. Curso 2014/2015
Abstract
[Resumo] O Traballo de Fin de Grao desenrola a elaboración dun plan de prevención de riscos laborais nunha pequena empresa, simplificando a documentación que debe ter o plan. Para iso, o plan segue as directrices da Guía Técnica proporcionada polo Instituto de Seguridade e Hixene no Traballo (INSHT en diante). Esta Guía ten como finalidade, facer máis comprensible o plan de prevención para os traballadores das pequenas e medianas empresas e para que poidan usalo como ferramenta imprescindible do seu sistema de xestión da prevención na empresa e así evitar incidentes e/ ou accidentes traballo.
[Resumen] El Trabajo de Fin de Grado plantea la elaboración de un plan de prevención de riesgos laborales en una pequeña empresa, mediante la simplificación de la documentación que tiene que tener dicho plan. Para ello, el plan sigue las directrices de la Guía técnica proporcionada por el Instituto de Seguridad e Higiene en el trabajo (INSHT en adelante). Dicha Guía tiene como finalidad, hacer más comprensible el plan de prevención para los trabajadores de las pequeñas y medianas empresas y para que puedan utilizarlo como herramienta imprescindible de su sistema de gestión de la prevención en la empresa y así evitar los incidentes y/o accidentes laborales.
[Abstract] Degree Final Work presents to build-up a plan of prevention about working risks in a small company, through the simplification of documents that would have to have the plan we have mentioned before. For that, at work, the plan follows the guidelines of Safety and Health School. The purpose of the guide is to make more understandable the plan of prevention for the small and medium company workers in order to they can use it as a vital tool of his arrangement system of the company´s forethought and on this way avoid the incidents and/or working accidents.
Keywords
Prevencion de riesgos
Prevención de riscos
Risks prevention
Pymes
Pemes
SME
Rights
Os titulares dos dereitos de propiedade intelectual autorizan a visualización do contido deste traballo a través de Internet, así como a súa reproducción, gravación en soporte informático ou impresión para o seu uso privado e/ou con fins de estudo e de investigación. En nengún caso se permite o uso lucrativo deste documento. Estos dereitos afectan tanto ó resumo do traballo como o seu contido Los titulares de los derechos de propiedad intelectual autorizan la visualización del contenido de este trabajo a través de Internet, así como su repoducción, grabación en soporte informático o impresión para su uso privado o con fines de investigación. En ningún caso se permite el uso lucrativo de este documento. Estos derechos afectan tanto al resumen del trabajo como a su contenido