Psicología positiva aplicada a las organizaciones: engagement y flow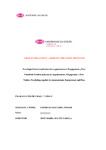 Collections
Title
Psicología positiva aplicada a las organizaciones: engagement y flow
Alternative Title(s)
Psicoloxía positiva aplicada as organizacións: engagement e flow
Positive Psychology Applied to Organizations: Engagement and Flow

Author(s)
Directors
Rolón Varela, José María
Date
2015
Description
Traballo fin de grao (UDC.FCT). Relacións laborais e recursos humanos. Curso 2014/2015
Abstract
[Resumen] En el presente estudio se realiza una revisión bibliográfica sobre el Engagement y Flow, dos constructos ampliamente estudiados dentro del marco de la Psicología Positiva que están íntimamente relacionados con la satisfacción y el bienestar de los empleados. Una vez conocidas las características principales de estos conceptos se ha procedido a realizar un trabajo de investigación mediante el cual, se han analizado los niveles de engagement y flow de una muestra de trabajadores, de distintas organizaciones, para determinar su relación y el papel que ambos tienen como predictores del bienestar laboral. Los resultados han confirmado que ambos conceptos están positivamente relacionados y que, de acuerdo con lo expuesto en el marco teórico, influyen en la satisfacción de los empleados.
[Abstract] In the present study, we performed a literature review on the Engagement and Flow, two constructs widely studied within the framework of the Positive Psychology that are intimately related with the satisfaction and well-being of employees. Once aware of the main characteristics of these concepts has been carrying out a research project through which, we have analyzed the levels of engagement and flow of a sample of workers from different organizations, to determine their relationship and the role that both have as predictors of labor welfare. The results have confirmed that both concepts are positively related and that, in accordance with the foregoing in the theoretical framework, influencing the satisfaction of the employees.
[Resumo] No presente estudo realízase unha revisión bibliográfica sobre o Engagement e Flow, dous constructos amplamente estudados dentro do marco da Psicoloxía Positiva que están íntimamente relacionados coa satisfacción e o benestar dos empregados. Unha vez coñecidas as características principais destes conceptos procedeuse a realizar un traballo de investigación mediante o cal, analizáronse os niveis de engagement e flow dunha mostra de traballadores, de distintas organizacións, para determinar a súa relación e o papel que ambos teñen como predictores do benestar laboral. Os resultados confirmaron que ambos conceptos están positivamente relacionados e que, de acordo co exposto no marco teórico, inflúen na satisfacción dos empregados.
Keywords
Psicología positiva
Satisfacción laboral
Experiencia óptima
Engagement
Flow
Positive psychology
Job satisfaction
Optimal experience
Psicoloxía positiva
Rights
Os titulares dos dereitos de propiedade intelectual autorizan a visualización do contido deste traballo a través de Internet, así como a súa reproducción, gravación en soporte informático ou impresión para o seu uso privado e/ou con fins de estudo e de investigación. En nengún caso se permite o uso lucrativo deste documento. Estos dereitos afectan tanto ó resumo do traballo como o seu contido Los titulares de los derechos de propiedad intelectual autorizan la visualización del contenido de este trabajo a través de Internet, así como su repoducción, grabación en soporte informático o impresión para su uso privado o con fines de investigación. En ningún caso se permite el uso lucrativo de este documento. Estos derechos afectan tanto al resumen del trabajo como a su contenido