Bitcoin, ¿la moneda del futuro?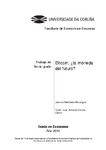 Title
Bitcoin, ¿la moneda del futuro?
Author(s)
Directors
García Cebro, Juan Antonio
Date
2016
Center/Dept./Entity
Universidade da Coruña. Facultade de Economía e Empresa
Description
Traballo fin de grao (UDC.ECO). Economía. Curso 2015/2016
Abstract
[Resumen]: En este estudio se analiza la moneda digital Bitcoin, moneda descentralizada que goza de mayor popularidad en la actualidad, sus características más técnicas y sus implicaciones como moneda en un mundo globalizado. Los aspectos centrales que se estudian hacen referencia a la potencial viabilidad de que esta moneda digital pueda ser considerada como dinero en su forma convencional (medio de pago, depósito de valor y unidad de cuenta). En este contexto, de la revisión de la literatura académica relevante se deriva que, a pesar de considerarse en cierto modo como una moneda al uso, no lo es todavía. No llega a ser aceptada por la gran mayoría de la sociedad, ya sea por desconocimiento del protocolo como por la desconfianza que puede generar. Adicionalmente se trata de una moneda con una oferta fija que puede derivar en situaciones deflacionarias. Y también se caracteriza por su alta volatilidad, lo que puede conllevar burbujas especulativas en lo que se refiere a su valor como moneda. Debido a su corto recorrido resulta impredecible su futuro a más largo plazo; aunque sus defensores auguren su éxito en el futuro, con este estudio no puede concluirse que llegará a convertirse en el futuro, en su formulación actual, en una aternativa viable a las monedas convencionales.
[Abstract]: This research analyses the digital asset Bitcoin, the most popular decentralised currency nowadays, together with its technical features and its implications in a globalised world. The main aspects contemplated in this study refer to its prospective feasibility in its uses as a conventional form of currency (means of payment, store of value and unit of account). In this context, after the close examination of the corresponding academic literature, it can be concluded that, although sometimes considered a regular and standardised form of currency, it has not reached that state yet. Bitcoin is still not completely accepted in our society, either due to a lack of knowledge on the subject or a general feeling of mistrust towards it. Additionally, we are dealing with a form of currency with a fixed supply that can result in deflationary situations. Also important to bear in mind is its high volatility, which can cause speculative bubbles regarding its value as a currency. Bitcoin's short journey makes it impossible to predict its fate in the long run; despite its advocates auguring its success in the future, this research cannot conclude that, given its present conditions, it will become a viable alternative to more conventional currencies.
Keywords
Bitcoin
Moneda digital
Dinero digital
Dinero fiduciario
Sistema financiero
Economía descentralizada
Digital currency
Digital money
Fiat money
Financial system
Descentralized economy
Rights
Os titulares dos dereitos de propiedade intelectual autorizan a visualización do contido deste traballo a través de Internet, así como a súa reproducción, gravación en soporte informático ou impresión para o seu uso privado e/ou con fins de estudo e de investigación. En nengún caso se permite o uso lucrativo deste documento. Estos dereitos afectan tanto ó resumo do traballo como o seu contido Los titulares de los derechos de propiedad intelectual autorizan la visualización del contenido de este trabajo a través de Internet, así como su repoducción, grabación en soporte informático o impresión para su uso privado o con fines de investigación. En ningún caso se permite el uso lucrativo de este documento. Estos derechos afectan tanto al resumen del trabajo como a su contenido