Pluralism in crisis: Transformations of the spanish DTT market in the context of the recession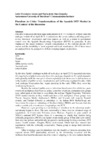 Title
Pluralism in crisis: Transformations of the spanish DTT market in the context of the recession
Date
2013
Citation
Fernández Alonso, I. and Díaz-González, M.-J.(2013), 'Pluralism in crisis: Transformations of the Spanish DTT market in the context of the recession', International Journal of Digital Television 4:1, pp.81–86
Abstract
[Abstract]: This article discusses the most significant aspects of DTT's evolution in Spain since the analogue switch-off in April 2010. It underscores the severe cutbacks affecting public-service television broadcasters and their impact, as well as a return to government control over the Spanish Broadcasting Corporation (RTVE) in particular. It also emphasises the major tendency towards concentration in the national private DTT market and the inviability of most regional and local broadcasters. All of these issues are analysed from the perspective of their worrying impact on pluralism.
Keywords
DTT
Pluralism
Spain
Public-service media
Financial crisis
Concentration
Editor version
Rights
© 2013 Intellect Ltd.
ISSN
2040-4182