Situación actual del servicio de ayuda a domicilio de la comarca Oscos-Eo: detección de necesidades desde terapia ocupacional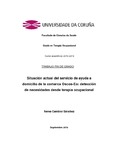 Collections
Title
Situación actual del servicio de ayuda a domicilio de la comarca Oscos-Eo: detección de necesidades desde terapia ocupacional
Author(s)
Directors
Nieto-Riveiro, Laura
Muñiz, Javier

Date
2016
Center/Dept./Entity
Universidade da Coruña. Facultade de Ciencias da Saúde
Description
Traballo fin de grao (UDC.FCS). Terapia ocupacional. Curso 2015/2016.
Abstract
[Resumo] Introdución: O servizo de axuda a domicilio é unha prestación social que permite a intervención directa de profesionais cualificados no fogar da persoa beneficiaria. Un dos ámbitos de actuación é a poboación maior, dado que a medida que aumenta a idade a taxa de dependencia tende a incrementarse. Isto permite prever unha demanda crecente de dito servizo. Actualmente, a lexislación do Principado de Asturias non contempla o perfil do terapeuta ocupacional neste servizo. Obxectivos: Explorar a situación actual do servizo de axuda a domicilio da Comarca Oscos-Eo e a posible integración do terapeuta ocupacional neste equipo. Metodoloxía: Empregouse unha metodoloxía cualitativa baseada nun enfoque fenomenolóxico. Para a recollida de datos, utilizouse como técnica principal a entrevista semiestructurada. A mostra estivo conformada por un total de 14 traballadoras dos SAD da comarca estudiada. Resultados: Extraéronse as seguintes categorías de significado: "Desafíos actuais dentro do equipo profesional", "Limitacións na xestión de rotacións e rutas", "Falta de accesibilidade en vivendas e de recursos", "Desaxuste entre expectativas e oferta formativa no grupo de auxiliares", "Necesidade de incorporación de novos profesionais" e "Perspectivas sobre o SAD e a súa cobertura". Conclusións: Requírese un cambio na organización e planificación do SAD da comarca estudada pero pese a elo as traballadoras do servizo móstranse satisfeitas co traballo. Detectouse tamén un gran descoñecemento da terapia ocupacional, que pode limitar a integración deste profesional nos SAD.
[Abstract] Background: Home health care service is a social facility that allows qualified professionals to intervene directly in the beneficiary person's home. One of its fields of action is elderly population, for as age increases the dependence rate gets also increased. This allows us to prevent an increasing demand of this service. Actual regulation in the Principality of Asturias do not provide the profile of Occupational Therapist in this service. Targets: Explore the current situation of the home health care service in Oscos-Eo region and the possible integration of the occupational therapist in this team. Methods: A phenomenological-approach-based qualitative methodology has been employed. A semistructured interview has been used to collect the data. A total of 14 female workers of the services in the studied region took part in the study. Results: These meaning categories have been extracted: "Current challenges inside the professional team", "Limitations in the rotations and routes management", "Lack of accessibility in dwellings and lack of access to resources", "Disarrangement between expectations and training offer in the group of assistants", "Requirement of the addition of new professionals" and "Perspectives on home health care service and its coverage". Conclusions: A change is required about organization and planning of the service in the studied region, but even though the workers feel mostly satisfied with their jobs. A big ignorance about occupational therapy has been detected that can limit the integration of this professional in home health care service.
Keywords
Servicio de ayuda a domicilio
Ayudas sociales
Terapia ocupacional
Personas mayores
Dependencia
Servizo de axuda a domicilio
Axudas sociais
Persoas maiores
Home health care service
Social help
Occupational therapy
Elderly people
Dependence
Rights
Os titulares dos dereitos de propiedade intelectual autorizan a visualización do contido deste traballo a través de Internet, así como a súa reproducción, gravación en soporte informático ou impresión para o seu uso privado e/ou con fins de estudo e de investigación. En nengún caso se permite o uso lucrativo deste documento. Estos dereitos afectan tanto ó resumo do traballo como o seu contido Los titulares de los derechos de propiedad intelectual autorizan la visualización del contenido de este trabajo a través de Internet, así como su repoducción, grabación en soporte informático o impresión para su uso privado o con fines de investigación. En ningún caso se permite el uso lucrativo de este documento. Estos derechos afectan tanto al resumen del trabajo como a su contenido