Restructuración y apertura del Centro Agro Turístico Posada Club Las Amazonas 144 C.A. en Venezuela, Estado Táchira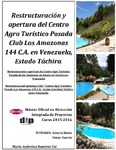 Collections
Title
Restructuración y apertura del Centro Agro Turístico Posada Club Las Amazonas 144 C.A. en Venezuela, Estado Táchira
Author(s)
Directors
Nieto de Almeida, Arturo
García García, Óscar

Date
2016
Center/Dept./Entity
Universidade da Coruña. Escola Universitaria de Arquitectura Técnica
Description
Traballo fin de mestrado (UDC.EUAT). Dirección integrada de proxectos. Curso 2015/2016.
Abstract
[Resumen] El presente Trabajo Fin de Máster, busca colocar en práctica los conocimientos sobre la metodología de Dirección Integrada de Proyectos adquiridos durante el curso 2015-2016 para realizar la "Restructuración y Apertura del Centro Agro turístico Posada Club Las Amazonas 144 C.A. en San Cristóbal Estado Táchira Venezuela". El proyecto constará de una sola fase que incluirá los grupos de proceso de inicio, planificación, ejecución, seguimiento y control y cierre. Con ayuda de la metodología DIP se establecerán todas las pautas necesarias para generar un proyecto que pueda ser entendido y comprendido fácilmente por todos los involucrados, garantizando así la prueba de las habilidades del alumno como futuro Director de Proyectos, utilizando y aplicado las herramientas necesarias que promuevan el desarrollo eficiente de todos los recursos requeridos así como el cumplimiento de los objetivos planteados.
[Abstract] This Master's thesis, seeks to put into practice the knowledge on the methodology of Integrated Project Management acquired during the course 2015-2016 for the "Restructuring and Opening of Agro center Tourist Club Posada Las Amazonas 144 C.A. in San Cristobal Táchira State Venezuela ". The project will consist of a single phase which will include groups start up, planning, implementation, monitoring and controlling and closing. Using the DIP methodology all necessary guidelines to build a project that can be understood and easily understood by all involved, thus ensuring the test the student's skills as future Project Manager, using and implemented the necessary tools will be established to promote the efficient development of all the resources required and the fulfillment of the objectives.
[Resumo] A presente tese ten como obxectivo poñer en práctica os coñecementos sobre a metodoloxía da Dirección Integrada de Proxectos adquiridos durante o curso 2015-2016 para realizar a Restructuración e Apertura do Centro Agroturístico "Posada Club Las Amazonas" 144 C.A. en San Cristóbal, Estado Táchira, Venezuela. O proxecto constará dunha soa fase que incluirá os grupos do proceso de comezo, planificación, execución, seguimento e control e peche. Coa axuda da metodoloxía DIP, estableceranse todas as pautas necesarias para xerar un proxecto quen de ser entendido e comprendido de xeito doado por todos os vencellados, garantindo así a proba de habilidades do alumno como futuro Director de Proxectos, facendo uso e aplicación das ferramentas necesarias que promovan o desenrolo eficiente de todos os recursos requeridos, así como o cumplimento dos obxectivos plantexados.
Keywords
Gestión de proyectos
Dirección integrada de proyectos
Director de proyecto
Club Las Amazonas
Project manager
Rights
Os titulares dos dereitos de propiedade intelectual autorizan a visualización do contido deste traballo a través de Internet, así como a súa reproducción, gravación en soporte informático ou impresión para o seu uso privado e/ou con fins de estudo e de investigación. En nengún caso se permite o uso lucrativo deste documento. Estos dereitos afectan tanto ó resumo do traballo como o seu contido Los titulares de los derechos de propiedad intelectual autorizan la visualización del contenido de este trabajo a través de Internet, así como su repoducción, grabación en soporte informático o impresión para su uso privado o con fines de investigación. En ningún caso se permite el uso lucrativo de este documento. Estos derechos afectan tanto al resumen del trabajo como a su contenido