La complejidad y opacidad de las tareas auxiliares en los procesos de trabajo: un análisis etnográfico comparado en dos servicios hospitalarios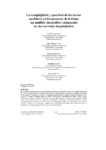 Title
La complejidad y opacidad de las tareas auxiliares en los procesos de trabajo: un análisis etnográfico comparado en dos servicios hospitalarios
Alternative Title(s)
Complexity and opacity of auxiliary tasks in work processes: a comparative ethnographic approach in two hospital services
Author(s)
Date
2013
Citation
Lozares, C., Verd, J., Barranco, O., Massó, M. and Moreno, S. (2013). La complejidad y opacidad de las tareas auxiliares en los procesos de trabajo: un análisis etnográfico comparado en dos servicios hospitalarios. Cuadernos de Relaciones Laborales, 31(1), pp.221-242.
Abstract
[Resumen]: En el artículo se analizan dos procesos de trabajo auxiliares de un hospital, como son el trabajo administrativo de las Consultas Externas y el trabajo del servicio de Esterilización. En concreto, el análisis se concentra en dos aspectos. El primero se refiere a la complejidad producida por el grado de trabajo interactivo de los procesos de trabajo. El segundo aspecto se refiere a la opacidad o invisibilidad del trabajo y de las competencias para realizarlo. La obtención de datos se ha realizado utilizando una orientación etnográfica, combinando el uso de observaciones y de entrevistas semidirigidas. El análisis se desarrolla repasando descriptiva e interpretativamente cada uno de los dos procesos y desplegando reflexiones comparativas entre ellos. El artículo se finaliza con conclusiones respecto a las características particulares que representan para los trabajadores y la propia organización las tareas de carácter auxiliar.
[Abstract]: In the article, two auxiliary work processes in a hospital are analysed; namely, the administrative work in the out-patients department and the work in the sterilisation service. The analysis focuses on two aspects. The first one refers to complexity produced by the degree of interactive work in work processes. The second one refers to opacity or invisibility of work and competencies necessary to accomplish it. Data has been obtained using an ethnographic approach, combining the use of observations and semi-directed interviews. The analysis develops reviewing descriptively and interpretatively each work process and deploying comparative reflections among them. The article finishes with conclusions related to the particular characteristics that auxiliary tasks have for workers and the organisation itself.
Keywords
Etnografía en el trabajo
Complejidad
Trabajo auxiliar
Trabajo invisible
Competencias
Work ethnography
Complexity
Auxiliary work
Invisible work
Competencies
Editor version
Rights
© Universidad Complutense de Madrid
ISSN
1131-8635