La individualización de la relación de empleo en las grandes empresas en España: el caso de la industria del automóvil y el sector sanitario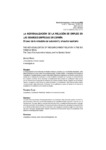 Except where otherwise noted, this item's license is described as Reconocimiento-NoComercial 3.0 España
Title
La individualización de la relación de empleo en las grandes empresas en España: el caso de la industria del automóvil y el sector sanitario
Alternative Title(s)
The individualization of the employment relation in the big firms in Spain : the case of the automotive industry and the sanitary sector
Author(s)
Date
2011
Citation
Massó, M. (2011). La individualización de la relación de empleo en las grandes empresas en España. El caso de la industria del automóvil y el sector sanitario. Revista Internacional De Sociología, 69(1), 143-166.
Abstract
[Resumen] La individualización de las relaciones de empleo constituye un proceso que, con distintas velocidades, viene desarrollándose en la mayor parte de los países europeos. En este contexto, la emergencia del concepto de "competencia" ha desempeñado un papel fundamental. Este artículo examina en qué medida los usos empresariales de la competencia constituyen un punto de inflexión ascendente en el proceso de individualización de la relación de empleo. En la actualidad, la transformación del concepto de "cualificación" tiene que ver con los cambios en las condiciones de utilización de la fuerza de trabajo, esto es, la gestión de los mercados internos, los salarios y otras formas de control del trabajo y los trabajadores. Este artículo analiza, teórica y empíricamente, estas dimensiones "dinámicas" de la cualificación y explora el impacto de los usos de la competencia en la definición de la relación de empleo.
[ABSTRACT] A process of individualization of employment relations has developed, albeit at variable speeds, in most European Economies. Within this process the emergence of a competence-based approach to skill has had an important role. This paper seeks to examine the contribution that a competence-based approach to management has made to the individualization of employment relations. Nowadays the changing meaning of skill has to do with the transformations of workforce uses, that is, the management of careers, wages and control forms over work. This paper analyses these "dynamic" dimensions and explores the impact of competences in the definition of the employment relation.
Keywords
Competencia
Cualificación
Flexibilidad
Individualización
Relación de empleo
Gestión recursos humanos
Competency
Flexibility
Human resource management
Skill
Editor version
Rights
Reconocimiento-NoComercial 3.0 España
ISSN
0034-9712