Verificación de la fiabilidad estructural en estructuras ejecutadas mediante metodología probabilística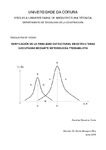 Collections
Title
Verificación de la fiabilidad estructural en estructuras ejecutadas mediante metodología probabilística
Author(s)
Directors
Mosquera-Rey, Emilio
Date
2016
Center/Dept./Entity
Universidade da Coruña. Escola Universitaria de Arquitectura Técnica
Description
Traballo fin de grao (UDC.EUAT). Arquitectura técnica. Curso 2015/2016.
Abstract
[Resumen] El aumento del parque construido lleva a una necesidad de mayor mantenimiento y a abordar la evaluación del grado de seguridad residual de las estructuras existentes. La diferencia fundamental entre la evaluación de estructuras existentes y el proyecto de estructuras de nueva construcción reside en el estado de información. En la evaluación de la seguridad que presenta una estructura existente para las condiciones de uso actuales y futuras, es necesario abordar problemas distintos de los que habría que resolver en el dimensionado de estructuras de nueva construcción. En un dimensionado, las hipótesis de cálculo se basan en valores esperados de las cargas y de la resistencia de la estructura, y deben tener en cuenta las incertidumbres relacionadas con la ejecución. Cuando la estructura analizada existe ya, son muchas las incertidumbres que se pueden reducir porque es posible afinar los modelos de cálculo para cada caso, aprovechando los resultados de inspecciones, ensayos y mediciones in situ. En estructuras existentes normalmente es posible incrementar el nivel de precisión de los modelos de cálculo a través de la adquisición de más datos sobre la estructura analizada. En la mayoría de los casos, el coste de la actualización de la información se compensa con una reducción significativa del coste de la intervención o de otros costes, puesto que una evaluación demasiado conservadora puede conducir a limitaciones no justificadas de las cargas variables de uso, así como a refuerzos o demoliciones innecesarias de estructuras existentes. Actualmente no existen herramientas que permitan abordar fácilmente los problemas relacionados con la evaluación de la fiabilidad de estructuras existentes. Es por esto que este Trabajo Fin de Grado tiene por objetivo el acercar a la edificación la verificación de la fiabilidad estructural de las estructuras ejecutadas mediante metodología probabilista.
[Abstract] Increasing the park built leads to a greater need for maintenance and to address the residual assessing the degree of safety of existing structures. The fundamental difference between the evaluation of existing structures and structural design of new construction resides in the state of information. In the safety assessment presented an existing structure for current and future conditions of use, it is necessary to address problems other than those that would be resolved in the dimensioning of newly built structures. In dimensioning, the calculation assumptions are based on expected values of the loads and the strength of the structure, and must take into account the uncertainties related to execution. When analyzed the structure already exists, there are many uncertainties may be reduced because it is possible to tune the calculation models for each case, using the results of inspections, tests and in situ measurements. In existing structures it is usually possible to increase the level of accuracy of the calculation models through the acquisition of more data on the structure analyzed. In most cases, the cost of updating information is offset by a significant reduction in the cost of intervention or other costs, since a too conservative assessment can lead to limitations unjustified of variable loads of use, as well as reinforcements or unnecessary demolition of existing structures. Currently there are no tools to easily address problems related to the assessment of the reliability of existing structures. That is why this Final Project aims to bring the building up the verification of the structural reliability of structures executed by probabilistic methods.
Keywords
Fiabilidad estructural
Estructuras existentes
Métodos probabilistas
Evaluación
Structural reliability
Existing structures
Probabilistic methods
Evaluation
Rights
Os titulares dos dereitos de propiedade intelectual autorizan a visualización do contido deste traballo a través de Internet, así como a súa reproducción, gravación en soporte informático ou impresión para o seu uso privado e/ou con fins de estudo e de investigación. En nengún caso se permite o uso lucrativo deste documento. Estos dereitos afectan tanto ó resumo do traballo como o seu contido Los titulares de los derechos de propiedad intelectual autorizan la visualización del contenido de este trabajo a través de Internet, así como su repoducción, grabación en soporte informático o impresión para su uso privado o con fines de investigación. En ningún caso se permite el uso lucrativo de este documento. Estos derechos afectan tanto al resumen del trabajo como a su contenido