Avellentamento e calidade de vida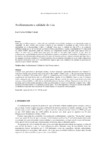 View/Open
Title
Avellentamento e calidade de vida
Alternative Title(s)
Quality of life and aging
Author(s)
Date
2011-07-14
Citation
Millán Calenti JC. Avellentamento e calidade de vida. Rev Galega Econom. 2011;20:89-108
Abstract
[Resumo] Aínda que nos últimos tempos, e sobre todo nas sociedades desenvolvidas, asistimos a un espectacular avance na "cantidade" de anos vividos, non ocorreu o mesmo se nos referimos á cantidade de anos vividos libres de enfermidade ou de discapacidade, é dicir, á "calidade" deses anos. A calidade de vida (CV) é un constructo multidimensional que se vai ver afectado por factores flsicos, psicolóxicos e sociais, denominándose CV relacionada coa saúde (CVRS) únicamente cando nos referimos aos compoñentes propios da saúde como aspecto fisico ou clínico. A vellez non é a mellar época para gozar da saúde na súa máis ampla acepción xa que, froito do avellentamento, a probabilidade de presentar enfermidades crónicas e invalidantes se incrementa. A dependencia é un dos factores máis distorsionador da percepción do estado de benestar, polo que calquera actuación que logre frear a súa chegada contribuirá a mellorar a CV;outras medidas serán de natureza económica ou social. Dada a importancia dos factores subxectivos sobre a CV, non deberemos esquecer que a súa avaliación vai depender en gran parte da percepción que o suxeito leña deles.
[Abstract] In recent years, particular/y in developed societies, we have witnessed a spectacular advanced in the "amount" of lived years, but the same cannot be slated if we refer to the "qualily" of those years, i.e. the amount of years lived free of illness or disabilily. The quality of lite (QOL) is a mulfidimensional construct that will be affected by physical, psychological and social factors and we call Health Related Quality of Lite (HRQOL) when we refer lo common health components only, such as physical or clinical aspects. Old age is not the best time to enjoy health in its wider meaning, as the probability lo suffer chronic and disabling diseases increases will age. Dependence is one of the most distorting factors in the welfare perception so that any action aimed lo delay it will contribute to improve QOL. Other measures to be taken will be of economical or social nature. Due to the importance of subjective factors on the QOL, we should not forget that their assessment will largely depend on the person's own perception.
Keywords
Avellentamento
Calidade de vida
Persoas maiores
Aging
Quality of life
Elderly people
Rights
Esta é a copia dun artigo aceptado para a súa publicación en Revista Galega de Economía. A versión definitiva autorizada polo editor atópase dispoñible na páxina web da revista.