Percepción sobre la autonomía personal y la calidad de vida en personas mayores institucionalizadas en un centro libre de sujeciones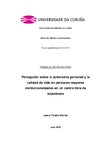 Collections
Title
Percepción sobre la autonomía personal y la calidad de vida en personas mayores institucionalizadas en un centro libre de sujeciones
Author(s)
Directors
Feal González, Raquel
Varela Álvarez, Emma

Date
2015-07
Center/Dept./Entity
Universidade da Coruña. Facultade de Ciencias da Saúde
Description
Traballo fin de grao (UDC.FCS). Terapia ocupacional. Curso 2014/2015.
Abstract
[Resumen] Antecedentes: En la actualidad existe un debate sobre el uso de las sujeciones físicas ya que constituyen un tema muy controvertido, debido a sus consecuencias éticas, sociales y jurídicas. El uso de éstas tiene efectos como consecuencia de su uso rutinario, efectos físicos y psicológicos, además de que pueden atentar contra los derechos de las personas mayores. Cuando una persona es sometida a una sujeción física está perdiendo su autonomía para decidir participar en ocupaciones en su entorno y, por lo tanto, podría ser una forma de injusticia ocupacional. Además esta falta de participación puede poner en riesgo la salud de la persona y su calidad de vida. La terapia ocupacional debe identificar posibles barreras en la participación, entre las que se encuentran las sujeciones físicas. El terapeuta ocupacional, integrado dentro de un equipo interdisciplinar, debe buscar con los diferentes profesionales las posibles alternativas a esa sujeción, estableciendo unos objetivos comunes e interviniendo desde las diferentes disciplinas para lograr esas metas. Objetivos: El objetivo general de este estudio es describir el cambio percibido sobre la autonomía personal y la calidad de vida de personas mayores institucionalizadas que han tenido sujeciones físicas y actualmente se encuentran libres de sujeciones. Metodología: La metodología empleada para esta investigación se trata de la metodología cualitativa, en concreto la fenomenología y las técnicas de recogida de datos utilizadas serán la entrevista semi-estructurada y un cuaderno del investigador. Se utilizará un muestreo intencional, seleccionando tres perfiles de informantes, las personas mayores, sus familiares y/o cuidadores y profesionales del centro.
[Abstract] Background: There is currently a debate on the use of pshysical restraints as they constitute a very controversial subject, because of their ethical, social and legal consequences. The use of these has effects from rutine use, physical and psychological effects, besides they can infrige the rigths of the elderly. When a person is subjected to a phsysical restraint he is losing his autonomy to decide to participate in occupations in his environment and, therefore, could be a form of occupational injustice. In adittion this lack of participation can put in risk the health of the person and his quality of life. Occupational therapy must identify potential barriers to participation, including pshysical restraints. Occupational therapist, integrated within an interdisciplinary team, should look to different proffesionals possibles alternatives to this restraint, establishing common objetives and intervening from differents disciplines to achieve these goals. Objective: The general objective of this study is to describe the change perceived on personal autonomy and quality of life of institutionalized elderly who have had physical restraints and are currently free of restraitns. Methodology: The metodology used in this research is qualitative methodology, specifically the phenomenology and data collection thechniques are semi-structured interview and a notebook of the investigator. Intentional sampling is used, selecting three profiles informants, elderly, their families and/or caregivers and center professionals.
Keywords
Personas mayores
Sujeciones
Terapia ocupacional
Calidade de vida
Autonomía personal
Elderly
Restraints
Occupational therapy
Quality of life
Personal autonomy
Rights
Os titulares dos dereitos de propiedade intelectual autorizan a visualización do contido deste traballo a través de Internet, así como a súa reproducción, gravación en soporte informático ou impresión para o seu uso privado e/ou con fins de estudo e de investigación. En nengún caso se permite o uso lucrativo deste documento. Estos dereitos afectan tanto ó resumo do traballo como o seu contido Los titulares de los derechos de propiedad intelectual autorizan la visualización del contenido de este trabajo a través de Internet, así como su repoducción, grabación en soporte informático o impresión para su uso privado o con fines de investigación. En ningún caso se permite el uso lucrativo de este documento. Estos derechos afectan tanto al resumen del trabajo como a su contenido