Application of a new system of self-tensioning to the design of large-span wood floor framings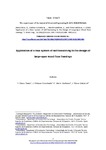 View/Open
Title
Application of a new system of self-tensioning to the design of large-span wood floor framings
Author(s)
Date
2016
Center/Dept./Entity
Universidade da Coruña. Departamento de Tecnoloxía da Construción
Citation
Otero-Chans, D., Estévez-Cimadevila, J., Martín-Gutiérrez, E., and Pérez-Valcárcel, J. (2016). "Application of a New System of Self-Tensioning to the Design of Large-Span Wood Floor Framings" Journal of structural engineering. 10.1061/(ASCE)ST.1943-541X.0001486 , 04016012
Abstract
[Abstract]This study describes a self-tensioning system in which the gravitational loads acting on a horizontal structural element are automatically converted to a post-tensioning force on that component. The self-tensioning effect has a variable intensity, constantly adjusted depending on the applied service loads. The self-tensioning is eccentrically applied over the cross-section, and it generates a negative moment that compensates the deformations due to the gravitational loads. The system can be utilized in beams, slabs and structural framings of different materials and can be implemented using different mechanical and hydraulic solutions. The study describes the operation of a mechanical solution for the self-tensioning system and analyzes its behavior in large-span timber floor framings. When combined with conventional pre-tensioning, the self-tensioning system notably improves the strength and deformation behavior and permits a design of timber floor framings with a total height of 0.03 times the span length, achieving relative deflections below 1/1000 of the span for the service loads of the structure.
Keywords
Post-tensioning
Self-tensioning
Prestressing
Pre-tensioning
Tensioning systems
Long-span
Timber flooring
Wooden structures
Rights
This paper is part of the Journal of Structural Engineering,© ASCE, ISSN 0733-9445 Otero-Chans, D., Estévez-Cimadevila, J., Martín-Gutiérrez, E., and Pérez-Valcárcel, J. (2016). "Application of a New System of Self-Tensioning to the Design of Large-Span Wood Floor Framings." J. Struct. Eng. , 10.1061/(ASCE)ST.1943-541X.0001486 , 04016012. PUBLISHED VERSION CAN BE FOUND IN : http://ascelibrary.org/doi/abs/10.1061/%28ASCE%29ST.1943-541X.0001486
ISSN
Related items
Showing items related by title, author, creator and subject.
Heusch, Carlos

(

Universidade da Coruña

,

2007

)

[Resumo] Estudo da cuestión da "novidade" na poesía de Juan de Mena e da lexitimidade ou non, para o devandito poeta, dunha "poesía moderna" á que tilda moi suxestivamente de "abusiva". Algúns poemas soltos seus plantexan ...

Guillamón Carrasco, Silvia

(

Universidade da Coruña

,

2012

)

[Resumen] En un texto ya clásico en el ámbito de la semiótica 'The Textual Space: On the Notion of Text' (1984), Jenaro Talens y Juan Miguel Company teorizaban acerca de las consecuencias de la irrupción de la figura del ...

Herrera, I.

(

Universidade da Coruña

,

1997

)