Paisaje y gesto :Estrategias del arte contemporáneo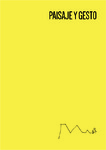 Collections
Title
Paisaje y gesto :Estrategias del arte contemporáneo
Author(s)
Directors
Rodríguez Blanco, Emilio
Date
2016
Center/Dept./Entity
Universidade da Coruña. Escola Técnica Superior de Arquitectura
Description
Traballo fin de grao (UDC.ETSA). Estudos en arquitectura. Curso 2015/2016
Abstract
El proyecto de paisaje toma referencias directas del territorio, un medio descubierto por el hombre a través de su propia presencia al atravesar el espacio. Por ello, el acto de andar es la primera herramienta que le permite conocer y crear. El trabajo presentado analiza la presencia de esta acción en el arte contemporáneo, vinculada directamente al proyecto de arquitectura. La actítud con las que diversos autores afrontan el paseo como medio de creación y desarrollo intelectual converge en distintas aproximaciones más cercanas al nomadismo o con una visión sedentaria de la ciudad. Una vez defi nidas, se analizan 3 obras contemporáneas incidiendo en su relación directa con el paisaje y como el usuario las descubre caminando.
[Resumo]O proxecto de paisaxe toma referencias directas do territorio, un medio descuberto polo home a través da su propia presenzo ao recorre-lo espazo. Por isto, o acto de andar é a primeira ferramenta que lle permite coñecer e crear. O traballo presentado analiza o papel de camiñar no arte contemporáneo, vinculado directamente ao proxecto de arquitectura. A actitude coa que diversos autores afrontan o paseo como medio de creación e desenrolo intelectual converxe en distintas aproximacións máis cercanas ao nomadismo ou cunha visión sedentaria da cidade. Unha vez definidas, analízanse 3 obras contemporáneas incidindo na súa relación directa coa paisaxe e como o usuario as descubre camiñando.
[Abstract]The landscape project grows directly from the territory, which is discovered by his own presence crossing the space. So, walk is the the fi rst tool that allows human being to learn and create. This work analise the presence of this activity on in the contemporany art, directly linked to architecture project. The actitud of various authors facing the stroll like a creative and intellectual process converge in diff erent approaches. Those will end up near to nomadism or with a sedentary vision of the city. After this, three contemporany architecture works are analised by its close relation to landscape and users walk.
Keywords
Paisaje
Arte contemporáneo
Miralles
No.mad
FOA
Paixaxe
Landscape
Contemporary art
Rights
Os titulares dos dereitos de propiedade intelectual autorizan a visualización do contido deste traballo a través de Internet, así como a súa reproducción, gravación en soporte informático ou impresión para o seu uso privado e/ou con fins de estudo e de investigación. En nengún caso se permite o uso lucrativo deste documento. Estos dereitos afectan tanto ó resumo do traballo como o seu contido Los titulares de los derechos de propiedad intelectual autorizan la visualización del contenido de este trabajo a través de Internet, así como su repoducción, grabación en soporte informático o impresión para su uso privado o con fines de investigación. En ningún caso se permite el uso lucrativo de este documento. Estos derechos afectan tanto al resumen del trabajo como a su contenido