A Coruña crust punk: análise (sub)cultural dun movemento efervescente, de naves okupa, licor café e xuventude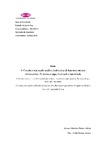 Title
A Coruña crust punk: análise (sub)cultural dun movemento efervescente, de naves okupa, licor café e xuventude
Alternative Title(s)
A Coruña crust punk: análisis (sub)cultural de un movimiento efervescente, de naves okupa, licor café y juventud
A Coruña crust punk: (sub)cultural analysis of a effervescent generation of squat warehouses, licor café and youthfulness

Author(s)
Directors
Cotillo Pereira, Alberto
Date
2016
Center/Dept./Entity
Universidade da Coruña. Facultade de Socioloxía
Description
Traballo fin de grao (UDC.SOC). Socioloxía. Curso 2015/2016
Abstract
[Resumen]En un escenario de incesantes cambios sociales a nivel mundial, las formas de creación subculturales están a ser redefinidas y reconstruidas para una nueva lectura. El presente trabajo, tiene como objeto estudiar la conformación del movimiento subcultural crust punk en la ciudad de A Coruña y los trazos identitarios que hacen de él un cuerpo de estudio en el campo de las subculturas. La producción de las teorías sobre los estudios culturales y las distintas corrientes que lo componen, permiten obtener una visión consolidada sobre este; además de las aportaciones culturales posmodernas. Con el fin de establecer los pilares sobre los que se sustenta el discurso de este colectivo, el uso de las entrevistas y el análisis del discurso serán las herramientas que nos permitan obtener dicho resultado.
[Resumo] Nun escenario de incesantes cambios sociais a nivel mundial as formas de creación subculturais están a ser redefinidas e reconstruídas para unha nova lectura. O presente traballo, ten como obxecto estudar a conformación do movemento subcultural crust punk na cidade da Coruña e os trazos identitarios que fan del un corpo de estudo no campo das subculturas. A produción das teorías sobre os estudos culturais e as distintas correntes que o compoñen, permiten obter unha visión consolidada sobre este; porén, das aportacións culturais posmodernas. Ca fin de establecer os alicerces sobre os que se sustenta o discurso deste colectivo, o uso das entrevistas e a análise do discurso serán as dúas ferramentas que nos permiten obter dito resultado.
[Abstract] In a setting of incessant social changes worldwide, the ways of subcultural creation are defined and reconstructed for a new reading. The present document, has as its objective to study the conformation of the subcultural movement crust punk in the city of A Coruña and the identity traits that make of it a subject for study the field of subcultures. The production of theories of cultural studies and the different movements that form it, permit to obtain a consolidated vision of it. In order to stablish the pillars in which the discourse of this collective is sustained , the use of interviews and discourse analysis will be the tools that allows us to obtain the mentioned result.
Keywords
Subcultura
Estudos culturais
Socioloxía da cultura
Crust punk
Escola de Birmingham
Discurso postapocalíptico
Estudios culturales
Escuela de Birmingham
Subcultures
Sociología de la cultura
Cultural studies
Sociology of culture
Birmingham School
Apocalyptic discourse
Rights
Os titulares dos dereitos de propiedade intelectual autorizan a visualización do contido deste traballo a través de Internet, así como a súa reproducción, gravación en soporte informático ou impresión para o seu uso privado e/ou con fins de estudo e de investigación. En nengún caso se permite o uso lucrativo deste documento. Estos dereitos afectan tanto ó resumo do traballo como o seu contido Los titulares de los derechos de propiedad intelectual autorizan la visualización del contenido de este trabajo a través de Internet, así como su repoducción, grabación en soporte informático o impresión para su uso privado o con fines de investigación. En ningún caso se permite el uso lucrativo de este documento. Estos derechos afectan tanto al resumen del trabajo como a su contenido