La relación entre esperanza de vida, desarrollo económico y medio ambiente. Evidencia empírica para grupos de países con diferentes niveles de renta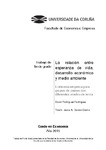 Title
La relación entre esperanza de vida, desarrollo económico y medio ambiente. Evidencia empírica para grupos de países con diferentes niveles de renta
Author(s)
Directors
Dopico Castro, Jesús A.
Date
2015
Center/Dept./Entity
Universidade da Coruña. Facultade de Economía e Empresa
Description
Traballo fin de grao (UDC.ECO). Economía. Curso 2014/2015
Abstract
[Resumen] En este trabajo se realiza un análisis de las relaciones entre esperanza de vida, desarrollo económico y medio ambiente tomando como referencia inicial los fundamentos de la Curva de Preston. Con esa finalidad se analizan las principales aportaciones de la literatura económica al estudio de los determinantes socioeconómicos de la esperanza de vida, tanto en paises desarrollados como en vías de desarrollo. En los países de renta alta destacan como factores determinantes aspectos como el gasto farmacéutico, el gasto sanitario o los estilos de vida, mientras que en los países de renta baja se destacan elementos como la alfabetización, la nutrición o el nivel de democracia de los países. Se estudian, además, las referencias básicas sobre la relación entre esperanza de vida y calidad ambiental, destacando la configuración de dos grupos de países con niveles altos y bajos de las dos variables, respectivamente, formando una distribución bimodal en ambas variables. El estudio empírico desarrollado en el trabajo muestra la existencia de una relación lineal directa entra la esperanza de vida de los países y su nivel de calidad ambiental, pero con un coeficiente de determinación reducido que, además, va disminuyendo a medida que se analizan grupos de paises con niveles de renta decrecientes.
[Abstract] This paper analyzes the relationship between life expectancy, economic development and environment by taking as reference the basics of Preston curve. With this purpose the main contributions of economic literature to study the socioeconomic determinants of life expectancy will be analyzed, in developed and developing countries. In high-income countries stand out as determining factors the pharmaceutical expenditure, health expenditure or lifestyles, while in low-income countries highlight elements such as literacy, nutrition or the level of democracy in the countries. Have been also studied the basic references on the relationship between life expectancy and environmental quality, foregrounding the configuration of two groups of countries with high and low levels of the two variables, respectively, forming a bimodal distribution in both variables. The empirical study developed in the paper shows the existence of a direct lineal relationship among life expectancy of the countries and their level of environmental quality, but with a reduced coefficient of determination which also is decreasing according as the groups of countries with decreasing income levels are analyzed.
Keywords
Esperanza de vida
Desarrollo económico
Curva de Preston
Índice de desempeño ecológico
Life expectancy
Economic development
Preston Curve
Environmental performance index
Rights
Os titulares dos dereitos de propiedade intelectual autorizan a visualización do contido deste traballo a través de Internet, así como a súa reproducción, gravación en soporte informático ou impresión para o seu uso privado e/ou con fins de estudo e de investigación. En nengún caso se permite o uso lucrativo deste documento. Estos dereitos afectan tanto ó resumo do traballo como o seu contido Los titulares de los derechos de propiedad intelectual autorizan la visualización del contenido de este trabajo a través de Internet, así como su repoducción, grabación en soporte informático o impresión para su uso privado o con fines de investigación. En ningún caso se permite el uso lucrativo de este documento. Estos derechos afectan tanto al resumen del trabajo como a su contenido