Políticas y tácticas del cuerpo: retablos de la ciudad activista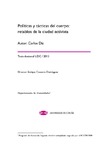 View/Open
Title
Políticas y tácticas del cuerpo: retablos de la ciudad activista
Author(s)
Directors
Couceiro, Enrique
Date
2015
Center/Dept./Entity
Universidade da Coruña. Departamento de Humanidades
Abstract
[Resumo] O que segue é un mosaico, un retablo composto de distintas figuras, prácticas e grupos activistas, produto dun traballo de campo multisituado desenvolto en distintas cidades europeas entre 2008 e 2012. Baixo a premisa inicial de seguir aos corpos e de rastrexar a cultura, nesta etnografia entrecrúzase a antropoloxía política coa antropoloxía do corpo, a antropoloxía urbana e a antropoloxía dos movementos sociais. Ademais, un entrecruzamento maior atravesa todo o texto: o do corpo coa cidade. Velaí a hipótese principal: o corpo vese alterado polas transformacións da cidade e esta pode ser alterada pola acción dos corpos. Instrumentalizados e convertidos en recursos, o corpo e a cidade configuran, na cultura activista, os primeiros lugares do político. O corpo despregado como táctica ou como vertebrador de tácticas, e a cidade como escenario e como obxecto de disputa, son os dous grandes protagonistas. Definir as tácticas do corpo, comprender que é o activismo, estudar o papel actual do corpo e da cidade nos movementos sociais, explicar as relacións entre ambos os dous e rastrexar as relacións de poder e as relacións de resistencia son aquí os obxectivos principais.
[Resumen] Lo que sigue es un mosaico, un retablo compuesto de distintas figuras, prácticas y grupos activistas, producto de un trabajo de campo multisituado desarrollado en distintas ciudades europeas entre 2008 y 2012. Bajo la premisa inicial de seguir a los cuerpos y de rastrear la cultura, en esta etnografía se entrecruza la antropología política con la antropología del cuerpo, la antropología urbana y la antropología de los movimientos sociales. Además, un entrecruzamiento mayor atraviesa todo el texto: el del cuerpo con la ciudad. He ahí la hipótesis inicial: el cuerpo se ve alterado por las transformaciones de la ciudad y ésta puede ser alterada por la acción de los cuerpos. Instrumentalizados y convertidos en recursos, el cuerpo y la ciudad configuran, en la cultura activista, los primeros lugares de lo político. El cuerpo desplegado como táctica o como vertebrador de tácticas, y la ciudad como escenario y como objeto de disputa, son los dos grandes protagonistas. Definir las tácticas del cuerpo, comprender qué es el activismo, estudiar el papel del cuerpo y de la ciudad en los movimientos sociales, explicar las relaciones entre ambos y rastrear las relaciones de poder y las relaciones de resistencia son aquí los objetivos principales.
[Abstract] What follows is a mosaic; an altarpiece composed of different figures, practices and activist groups, product of a multi-sited fieldwork developed in different European cities between 2008 and 2012. Under the premise of following bodies and tracking culture, this ethnography intersects with the anthropology of the body, political anthropology, urban anthropology, and anthropology of social movements. In addition, a greater thread runs through the text: the body with the city. Here is the initial hypothesis: the body is altered by the transformations of the city, and the city can be altered by bodily action. Instrumentalized and turned into resources, the body and the city set, in the activist culture, the primal spaces in political action. The body deployed as tactical or as the bearer of tactics, and the city as stage and as a subject of dispute, are the two great protagonists. The main objectives here are to define the tactics of the body, to understand what activism is, to study the current role of the body and the city in social movements, to explain the relationship between the two, and to track the relationships of power and relationships of resistance in the activist culture.
Keywords
Sociología urbana-Europa
Activistas
Antropología urbana
Ciudades-Efectos de la globalización sobre las
Rights
Licencia Creative Commons Reconocimiento-CompartirIgual 4.0 Internacional.