Velatorio, conducción y duelo en la aldea gallega: cambios y permanencias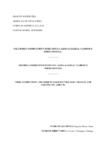 Title
Velatorio, conducción y duelo en la aldea gallega: cambios y permanencias
Alternative Title(s)
Velorio, condución e duelo na aldea galega : cambios e permanencias
Vigil, conduction and grief in Galician village: changes and continuity aspects

Author(s)
Directors
Couceiro Domínguez, Enrique
Date
2014
Center/Dept./Entity
Universidade da Coruña. Facultade de Socioloxía
Description
Traballo fin de grao (UDC.SOC). Socioloxía. Curso 2013/2014
Abstract
[Resumen]El objetivo de este trabajo se centra en constatar los cambios y permanencias en el simbolismo y en las prácticas del velatorio, la conducción y el duelo en la aldea gallega, cuya población se encuentra sometida desde hace décadas al fenómeno de la rurubanización. Se hace un análisis de la segmentación del territorio como condicionante de la expresión simbólico-ritual de las relaciones vecinales cuando acontece la muerte de un vecino. Con el objeto de analizar interpretativamente sus representaciones al respecto, se han realizado diez entrevistas semi-estructuradas a residentes de la misma parroquia y, para contextualizar y contrastar los discursos recogidos, se han utilizado diferentes recursos bibliográficos.
[Resumo]O obxectivo deste traballo céntrase en constatar os cambios e permanencias no simbolismo e nas prácticas do velorio, a condución e o duelo na aldea galega; cuxa población encóntrase sometida dende fai décadas ao fenómeno da rurubanización. Faise unha análise da segmentación do territorio como condicionante da expresión simbólico-ritual das relacións veciñais cando acontece a morte dun veciño. Co obxecto de analizar interpretativamente as súas representacións ó respecto, realizáronse dez entrevistas semi-estruturadas a residentes da mesma parroquia e, para contextualizar e contrastar os discursos recollidos, utilizáronse diferentes recursos bibliográficos.
[Abstract] This appear focuses on verify changes, as well as continuity aspects in symbolism and in the practice of vigil or velatorio the conduction of the corpse, or conducción, and grief in the Galician village, whose population has been subjected for decades to the phenomena of rurbanization. In this way, the segmentation of the territory has been analyzed as a conditioning factor of neighbourhood relations when happens the death of a neighbour. In order to analyze interpretively their local ideas about death and mourning, there searcher has developed ten semi-structured interviews with residents of the same parish; and in order to contextualize and contrast the collected speeches; she has used different bibliographic resources.
Keywords
Galicia
Muerte
Parroquia
Aldea
Velatorio
Conducción
Duelo
Morte
Velorio
Condución
Death
Parish
Village
Funeral wake
Driving
Duel
Rights
Os titulares dos dereitos de propiedade intelectual autorizan a visualización do contido deste traballo a través de Internet, así como a súa reproducción, gravación en soporte informático ou impresión para o seu uso privado e/ou con fins de estudo e de investigación. En nengún caso se permite o uso lucrativo deste documento. Estos dereitos afectan tanto ó resumo do traballo como o seu contido Los titulares de los derechos de propiedad intelectual autorizan la visualización del contenido de este trabajo a través de Internet, así como su repoducción, grabación en soporte informático o impresión para su uso privado o con fines de investigación. En ningún caso se permite el uso lucrativo de este documento. Estos derechos afectan tanto al resumen del trabajo como a su contenido