Proyecto básico y de ejecución de rehabilitación de vivienda unifamiliar en el lugar de Nogueiró de Arriba nº 23B, municipio de Meis, provincia de Pontevedra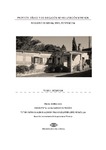 View/Open
Collections
Title
Proyecto básico y de ejecución de rehabilitación de vivienda unifamiliar en el lugar de Nogueiró de Arriba nº 23B, municipio de Meis, provincia de Pontevedra
Author(s)
Directors
López Rivadulla, Francisco Javier
Alonso Alonso, Patricia

Date
2016
Center/Dept./Entity
Universidade da Coruña. Escola Universitaria de Arquitectura Técnica
Description
Traballo fin de grao (UDC.EUAT). Arquitectura técnica. Curso 2015/2016.
Abstract
[Resumen] Este Trabajo de Fin de Grado (TFG) de Arquitectura Técnica se basa en la realización de un Proyecto Básico de Ejecución y Rehabilitación de una vivienda unifamiliar situada en Nogueiró de Arriba, en el término municipal de Meis, provincia de Pontevedra. En dicho proyecto se desarrolla el contenido exigido en el Anexo I de la parte I del Código Técnico de la Edificación. Se presenta en cuatro tomos: I. Memoria, II. Planos, III. Pliego de Condiciones, IV. y V. Mediciones y Presupuesto. La vivienda a rehabilitar sigue el patrón de la construcción de los años 80 en Galicia. Actualmente está deshabilitada y en estado deficiente por problemas de ejecución de la cubierta. El uso del edificio será el de vivienda unifamiliar, realizando el proyecto según el programa de necesidades propuesto por el promotor, adaptándolo a las necesidades actuales de confort y habitabilidad y cumpliendo la normativa aplicable.
[Abstract] This Degree Thesis of Architectural Engineering is based on the realization of a Basic Project and Execution for the Rehabilitation of a single family property situated in Nogueiró de Arriba, in the municipality of Meis, province of Pontevedra. In this project the content required in Annex I of Part I of the Technical Building Code is carried out. It is exhibited in four volumes: I. Memory, II. Planes, III. Specifications, IV and V. Measurements and Budget. The property which is going to be rehabilitated follows the pattern of the construction in the 80's in Galicia. Currently, it is uninhabited and in poor state of conservation due to problems caused by the roof's execution. The use of the building will be single family house, the project is carried out following the program needs proposed by the developer, adapting it to the current needs of comfort and habitability, and in compliance with applicable regulations.
Keywords
Proyecto básico y de ejecución
Meis
Vivienda
Construcción
Rehabilitación
Rehabilitation
House
Building
Project
Rights
Os titulares dos dereitos de propiedade intelectual autorizan a visualización do contido deste traballo a través de Internet, así como a súa reproducción, gravación en soporte informático ou impresión para o seu uso privado e/ou con fins de estudo e de investigación. En nengún caso se permite o uso lucrativo deste documento. Estos dereitos afectan tanto ó resumo do traballo como o seu contido Los titulares de los derechos de propiedad intelectual autorizan la visualización del contenido de este trabajo a través de Internet, así como su repoducción, grabación en soporte informático o impresión para su uso privado o con fines de investigación. En ningún caso se permite el uso lucrativo de este documento. Estos derechos afectan tanto al resumen del trabajo como a su contenido