El capital social y la Universidad: estudio sobre la influencia de la universidad en la construcción del capital social de los jóvenes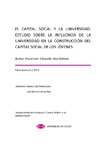 Title
El capital social y la Universidad: estudio sobre la influencia de la universidad en la construcción del capital social de los jóvenes
Author(s)
Directors
López Rey, José A.
Muñoz Goy, Celia

Date
2015
Center/Dept./Entity
Universidade da Coruña. Departamento de Socioloxía e Ciencia Política da Administración
Abstract
[Resumen] La presente tesis estudia el capital social de los jóvenes (universitarios y no universitarios) y en qué medida la pertenencia a institución comunitaria condiciona su incremento. Tomando la universidad como marco de referencia. De esta manera, sabremos cuantificar el impacto de esta institución sobre el aumento del capital social de los jóvenes. Para ello, el principal objetivo que persigue esta investigación es elaborar un modelo metodológico que aúne fundamentos de las principales corrientes teóricas en el estudio capital social (culturalista, estructuralista y enfoque de redes). Un patrón basado en los principales elementos del capital social que nos permita elaborar un modelo cimentado sobre una metodología cuantitativa y, que mediante el uso de diferentes técnicas estadísticas, nos posibilite definir, medir y comparar el capital social individual de los jóvenes según su naturaleza (capital social de acceso y capital social movilizado) y su origen (capital social heredado y capital social propio). Además de conocer cómo influyen otros factores como el capital cultural o la pertenencia a una determinada clase social en la consecución del capital social individual. Esta investigación está basada en un doble análisis comparado (interno y externo) de dos grupos de jóvenes (universitarios de grado y no universitarios).
[Resumo] Esta tese estuda o capital social da xuventude (universitaria e non universitaria) e de qué maneira a pertenza a unha institución comunitaria determina o seu aumento. Para iso tómase como referencia a universidade. Deste xeito, saberemos cuantificar o impacto desta institución sobre o aumento do capital social xuvenil. Para iso, o principal obxectivo deste traballo é desenvolver un modelo que combina os fundamentos metodolóxicos das principais correntes teóricas do estudo capital social (estruturalista, comunitario e de enfoque de redes). A partir dos principais elementos deste tipo de capital permítesenos desenvolver un modelo baseado nunha metodoloxía cuantitativa que utilizando diferentes técnicas estatísticas, permítenos definir, medir e comparar o capital social individual dos mozos de acordo coa súa natureza (capital de acceso e de capital mobilizado) e da súa orixe (capital herdado e de capital propio). Ademais de saber cómo inflúen outros factores como o capital cultural ou en qué xeito pertencer a unha clase social particular determina os niveis de capital social que se posúe. Esta investigación está baseada nunha dobre análise comparativa (interna e externa) de dous grupos de novos (universitarios e non universitarios).
[Abstract] This Doctoral Thesis studies the Social Capital of young people (University students and non-university youth) and to what extent the membership in a Community institution determines its increase. Taking the university as a reference framework. In this way, we will know how to quantify the impact of this institution on the Social Capital increase of youth. For this purpose the main objective of this research is to develop a model that combines methodological fundamentals of the main theoretical approaches to the research of Social Capital (Culturalist perspective, Structural perspective, and proposal of Network Approach). The main elements of Social Capital allow us to develop a model based on a quantitative methodology. Also, by using different statistical techniques which will be able to define, to measure and to compare the Individual young Social Capital according to its nature (The Access Social Capital and The Mobilized Social Capital) and its origin (inherited capital and own capital). Besides, knowing how other factors such as the Cultural Capital or membership in a particular social class which influence in the achievement of individual social capital. This research is based on a comparative analysis (internal and external) among two sorts of young people (young university people and non-university ones).
Keywords
Capital social (Sociología)
Estudiantes universitarios-Conducta social
Juventud-Aspecto sociológico
Universidades-Servicios a la colectividad
Rights
Os titulares dos dereitos de propiedade intelectual autorizan a visualización do contido desta tese a través de Internet, así como a súa reproducción, gravación en soporte informático ou impresión para o seu uso privado e/ou con fins de estudo e de investigación. En nengún caso se permite o uso lucrativo deste documento. Estos dereitos afectan tanto ó resumo da tese como o seu contido Los titulares de los derechos de propiedad intelectual autorizan la visualización del contenido de esta tesis a través de Internet, así como su repoducción, grabación en soporte informático o impresión para su uso privado o con fines de investigación. En ningún caso se permite el uso lucrativo de este documento. Estos derechos afectan tanto al resumen de la tesis como a su contenido