Homo ludens : nuevas respuestas arquitectónicas a escala doméstica en la sociedad del bienestar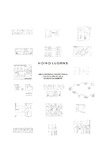 Collections
Title
Homo ludens : nuevas respuestas arquitectónicas a escala doméstica en la sociedad del bienestar
Author(s)
Directors
Pedrós Fernández, Óscar
Date
2015
Center/Dept./Entity
Universidade da Coruña. Escola Técnica Superior de Arquitectura
Description
Traballo fin de grao (UDC.ETSA). Estudos en arquitectura. Curso 2014/2015
Abstract
La arquitectura debe ser un reflejo de la sociedad que la necesita. Definiendo el ser contemporáneo como el hombre que juega se indaga en sus necesidades espaciales a escala doméstica. La incongruencia entre el proyecto arquitectónico de vivienda, anclado en estándares modernos, y la realidad actual encauza el trabajo en la búsqueda de nuevas formas para la arquitectura. Partiendo del principio de libertad de elección y de singularidad del individuo se tratan diferentes niveles de relación del habitante con el entorno que permiten organizar las nuevas respuestas según sus grados de introversión.
[Resumo]A arquitectura debe ser un reflexo da sociedade que a necesita. Definindo o ser contemporáneo como o home que xoga indágase nas suas necesidades espaciais a escala doméstica. A incongruencia entre o proxecto arquitectónico de vivenda, ancorado en estándares modernos, e a realidade actual dirixe o traballo na procura de novas formas para a arquitectura. Partindo do principio de liberdade de elección e de singularidade do individuo trátanse diferentes niveis de relación do habitante co entorno que permiten organizar as novas respostas segundo os seus graos de introversión.
[Abstract]The architecture should be a reflection of the society who needs it. Defining the contemporary human being as the man who plays, we can find out his space needs to domestic scale. The inconsistency between the architectural housing project, still anchored in the modern standards, and the current reality guides the work to the search of new shapes for the architecture. If we start from the freedom of choice and the singularity of the individual principles, we are dealing with different levels of the inhabitant's relation with the environment that let us organizing the new answers depending on its degrees of introversion.
Keywords
Vivienda
Híbrido
Loft
Vivenda
Housing
Hybrid
Rights
Os titulares dos dereitos de propiedade intelectual autorizan a visualización do contido deste traballo a través de Internet, así como a súa reproducción, gravación en soporte informático ou impresión para o seu uso privado e/ou con fins de estudo e de investigación. En nengún caso se permite o uso lucrativo deste documento. Estos dereitos afectan tanto ó resumo do traballo como o seu contido Los titulares de los derechos de propiedad intelectual autorizan la visualización del contenido de este trabajo a través de Internet, así como su repoducción, grabación en soporte informático o impresión para su uso privado o con fines de investigación. En ningún caso se permite el uso lucrativo de este documento. Estos derechos afectan tanto al resumen del trabajo como a su contenido