Adecuación de local comercial a bodega en A Coruña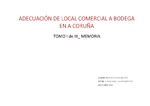 View/Open
Collections
Title
Adecuación de local comercial a bodega en A Coruña
Author(s)
Directors
Domínguez Díez, Eloy
Date
2015
Center/Dept./Entity
Universidade da Coruña. Escola Universitaria de Arquitectura Técnica
Description
Traballo fin de grao (UDC.EUAT). Arquitectura técnica. Curso 2015/2016.
Abstract
[Resumen] En el presente trabajo final de grado se realiza la reforma de un bajo de un edificio de la zona vieja de A Coruña, para destinarlo a uso como bodega. Se pretende la creación de un local agradable, acorde con el ambiente y estética de la zona. El trabajo se compone de tres tomos: TOMO I_ Memoria, en la que se incluye la memoria descriptiva y la memoria constructiva. Se justifica el cumplimiento del CTE, así como otros reglamentos. Finalmente se incluye en los anejos todos los cálculos y especificaciones necesarias de las instalaciones, iluminación, estudio de gestión de residuos de construcción y demolición, plan de control de calidad y el estudio de seguridad y salud. TOMO II_ Se incluye el pliego de condiciones, mediciones y presupuesto. Así como la bibliografía, conclusiones y agradecimientos. TOMO III_ Compuesto por toda la documentación gráfica acorde con toda la documentación incluida en los demás tomos.
[Abstract]In this reform TFG low of a building of the old part of A Coruna it is made, to be earmarked for use as a cellar. It is creating a friendly, Local commensurate with the environment and aesthetics of the area intended. The work consists of three volumes: VOLUME I_ Memory, which includes the specification and constructive memory. In the CTE, as well as other regulations is justified. Finally is included in annexes all the calculations and specifications needed for installations, lighting, waste management of construction and demolition, quality control plan and the study of safety and health. TOMO II_ Included the statement of conditions, measurements, and budget. As well as the bibliography, conclusions and acknowledgments. TOMO III_ Composed of all the graphic documentation in accordance with the documentation included in the other volumes.
Keywords
Proyecto
Adecuación
Bodegas
Proyect
Adecuacy
Cellar
Rights
Os titulares dos dereitos de propiedade intelectual autorizan a visualización do contido deste traballo a través de Internet, así como a súa reproducción, gravación en soporte informático ou impresión para o seu uso privado e/ou con fins de estudo e de investigación. En nengún caso se permite o uso lucrativo deste documento. Estos dereitos afectan tanto ó resumo do traballo como o seu contido Los titulares de los derechos de propiedad intelectual autorizan la visualización del contenido de este trabajo a través de Internet, así como su repoducción, grabación en soporte informático o impresión para su uso privado o con fines de investigación. En ningún caso se permite el uso lucrativo de este documento. Estos derechos afectan tanto al resumen del trabajo como a su contenido