Variables motivacionais, autoeficacia e enfoques de aprendizaxe en relación co rendemento académico do alumnado de bacharelato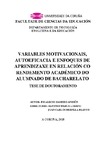 Title
Variables motivacionais, autoeficacia e enfoques de aprendizaxe en relación co rendemento académico do alumnado de bacharelato
Author(s)
Directors
Barca Lozano, Alfonso
Brenlla Blanco, Juan Carlos

Date
2015
Center/Dept./Entity
Universidade da Coruña. Departamento de Psicoloxía Evolutiva e da Educación
Abstract
[Resumo] A motivación foi adquirindo cada vez máis importancia no ámbito educativo como variable influente na aprendizaxe do alumnado e no seu rendemento académico. Mediante este estudo pretendíase analizar, por unha banda, o tipo de variables motivacionais, autoeficacia e enfoques de aprendizaxe adoptados maioritariamente polo alumnado de bacharelato, e pola outra, indagar en qué medida as variables motivacionais e autoeficacia influían sobre o seu rendemento, directamente ou, tomando como referencia o modelo 3P de Biggs, a través dos enfoques de aprendizaxe; estudando esta relación diferencialmente por sexo e especialidade. Para a realización desta investigación contouse cunha mostra composta por 1.505 alumnos/as de bacharelato das catro provincias galegas, a cal procuramos que fose o máis representativa posible da poboación galega desta etapa educativa, en canto á súa distribución por sexos, especialidades e provincias. Logo das análises estatísticas realizadas, descubriuse que este alumnado adoptaba variables motivacionais máis relacionadas co enfoque de orientación superficial e co rendemento positivo que co enfoque de orientación ó significado e con aprendizaxes de calidade. Isto manifestábase dunha maneira máis clara, respecto ó sexo, nos homes fronte ás mulleres, e respecto ás especialidades, nas de ámbito humanístico fronte ás científico-tecnolóxicas.
ABSTRACT Motivation has become more and more important in education field as a variable influencing on students learning and their academic achievements. Through this research I have tried to analyze, on one side, the type of motivational variables, self-efficacy and learning approaches that students from high school mainly take; and, secondly, to find out to a certain extent how these motivational variables and self-efficacy can influence in students' performance. This power can be checked directly or through different approaches (model 3p Biggs) and taking into consideration this relationship according to sex and specialty. To carry out this piece of research I was provided with a representative sample of 1505 high school students in the four Galician provinces, ensuring that this one was as representative as possible of Galician population at this education level , considering terms of distribution by sex, specialties and provinces. Once the statistics analyse was done, I have found out that these students usually take more motivational variables related to the superficial approach and to the positive performance than to the practical proposal to the meaning and quality learning. This fact was reflected in a more obvious way, taking into account sex, men versus women, apart from the specialties in the field of humanistic area in comparison to the scientific and technological one.
[Resumen] La motivación ha adquirido cada vez más importancia en el ámbito educativo como variable influyente en el aprendizaje del alumnado y en su rendimiento académico. A través de este estudio se pretendía analizar, por un lado, el tipo de variables motivacionales, autoeficacia y enfoques de aprendizaje adoptados mayoritariamente por el alumnado de bachillerato, y por otro, investigar en qué medida las variables motivacionales y autoeficacia influían sobre su rendimiento, directamente o, tomando como referencia el modelo 3P de Biggs, a través de los enfoques de aprendizaje; estudiando esta influencia diferencialmente por sexo y especialidad. Para la realización de esta investigación hemos contado con una muestra compuesta por 1.505 alumnos/as de bachillerato de las cuatro provincias gallegas, la cual procuramos que fuera lo más representativa posible de la población gallega de esta etapa educativa, en cuanto a su distribución por sexos, especialidades y provincias. Una vez realizados los análisis estadísticos, se ha descubierto que este alumnado adoptaba variables motivacionales más relacionadas con el enfoque de orientación superficial y con el rendimiento positivo que con el enfoque de orientación al significado y con aprendizajes de calidad. Esto se pone de manifiesto, de forma más clara, respecto al sexo, en los hombres frente a las mujeres, y respecto a las especialidades, en las de ámbito humanístico frente a las científico-tecnológicas.
Keywords
Estrategias de aprendizaje
Motivación en educación-Galicia
Éxito escolar-Galicia
Rendimiento escolar-Galicia
Alumnos de secundaria-Actitudes-Galicia
Autoeficacia
Enfoques de aprendizaje
Rendimiento académico
Bachillerato
Rights
Os titulares dos dereitos de propiedade intelectual autorizan a visualización do contido desta tese a través de Internet, así como a súa reproducción, gravación en soporte informático ou impresión para o seu uso privado e/ou con fins de estudo e de investigación. En nengún caso se permite o uso lucrativo deste documento. Estos dereitos afectan tanto ó resumo da tese como o seu contido Los titulares de los derechos de propiedad intelectual autorizan la visualización del contenido de esta tesis a través de Internet, así como su repoducción, grabación en soporte informático o impresión para su uso privado o con fines de investigación. En ningún caso se permite el uso lucrativo de este documento. Estos derechos afectan tanto al resumen de la tesis como a su contenido