Arquitectura del secado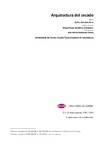 Title
Arquitectura del secado
Author(s)
Directors
Baldellou Santolaria, Miguel Ángel
Rodríguez Cheda, José Benito

Date
2015
Center/Dept./Entity
Universidade da Coruña. Departamento de Construcións Arquitectónicas
Abstract
[Resumen]La arquitectura del secado. Es necesario el control del agua en muchas cosas que usamos, comemos, nos ponemos...la cantidad adecuada para que algo permanezca, para que conserve sus propiedades, para que pueda usarse ... Los procedimientos con los que se realiza el control adecuado del agua contenida en los materiales que necesitemos. Un control asociado a procedimientos y fundamentalmente a arquitecturas que van desde lo más elemental: el aprovechamiento del terreno, hasta a la construcción más elaborada. Arquitecturas del secado que no solo son las de la elaboración, también son las de la conservación, almacenamiento y de como este almacenamiento es el que ha permitido prolongar sus tiempos de uso, y como evidentemente pueden llegar a convertir al contenedor en expresión de la importancia de lo que contiene. Las arquitecturas del secado aquí analizadas son aquellas que básicamente usan el sol y el aire para secar y tan solo se acompañan en menor medida, de las que necesitan el complemento del calor, del fuego. La mirada hacia la arquitectura del secado es muy importante desde hace años, desde el mundo del arte y de la arquitectura.
[Abstract]The architecture ol drying. The control of water is important in many things that we use, eat, wear ... , the adequate quantity of water that allows something to atay in good condition, conserve its properties, be used ... The procedures which allow tbe adequate control of the water contained in the materials that we need. A control associated with procedures and fundamentally with architectures that go from the most elementary: the use of the land, to the most elaborate construction. Architectures of drying that are not only those related to the elaboration hut also the ones used for preservation, storage and of how this storage has allowed to extend the time of use and how obviously they can get to convert (transform?) the container into the expression of the importance of what it contains. The architectures of drying analyzed here are the ones that basically use the sun and the aír to dry and, to a lesser extent, the ones that use the complement of heat, the fire. For years, a great interest has heen shown in the architecture of drying from the world of art and architecture
[Resumo]Arquitecturas do secado É necesario o control do auga en moitas cousas que usamos, comemos, poñémosnos ... , a cantidade adecuada para que algo permaneza, para que conserve as súas propiedades, para que poida usarse ... Os procedementos cos que se realiza o control adecuado do auga contida nos materiais que necesitamos. Un control asociado a procedementos e fundamentalmente a arquitecturas que van desde o máis elemental: o aproveitamento do terreo, ata á construción máis elaborada. Arquitecturas do secado que non só son as da elaboración, tamén son as da conservación, almacenamento e de como este almacenamento é o que permitía prolongar os seus tempos de uso, e como evidentemente poden chegar a converter ao contenedor en expresión da importancia do que contén. As arquitecturas do secado aquí analizadas son aquelas que basicamente usan o sol e o aire para secar e tan só acompáñanse en menor medida, das que necesitan o complemento da calor, do lume. A mirada cara á arquitectura do secado é moi importante desde fai anos, desde o mundo da arte e da arquitectura.
Keywords
Alimentos-Deshidratación
Secaderos para alimentos
Horreos
Silos de grano
Rights
Os titulares dos dereitos de propiedade intelectual autorizan a visualización do contido desta tese a través de Internet, así como a súa reproducción, gravación en soporte informático ou impresión para o seu uso privado e/ou con fins de estudo e de investigación. En nengún caso se permite o uso lucrativo deste documento. Estos dereitos afectan tanto ó resumo da tese como o seu contido Los titulares de los derechos de propiedad intelectual autorizan la visualización del contenido de esta tesis a través de Internet, así como su repoducción, grabación en soporte informático o impresión para su uso privado o con fines de investigación. En ningún caso se permite el uso lucrativo de este documento. Estos derechos afectan tanto al resumen de la tesis como a su contenido