Factores que inciden en la conservación de las comunidades de anfibios del noroeste ibérico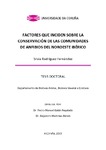 Title
Factores que inciden en la conservación de las comunidades de anfibios del noroeste ibérico
Author(s)
Directors
Galán Regalado, Pedro
Martínez Abraín, Alejandro

Date
2015
Center/Dept./Entity
Universidade da Coruña.Departamento de Bioloxía Animal, Bioloxía Vexetal e Ecoloxía
Abstract
[Resumen] Identificar los procesos que rigen el ensamblado y desensamblado de las comunidades animales resulta fundamental para contribuir a su conservación. Por ello, exploramos arversos aspectos de la estructura de las comunidades de anfibios del noroeste ibérico durante una secuencia temporal de once años (2003-2013), a lo largo de un gradiente altitudinal (1-2.036 m.s.n.m) en 3.627 puntos de muestreo, con énfasis en el papel de las perturbaciones antrópicas. Los análisis revelaron que aunque los anfibios gallegos utlnrnron todo tipo de medios acuáticos y terrestres, la riqueza de especies fue mayor en los puntos de agua con elevada cobertura de macrófitos sumergidos, ubicados a menor altitud, y de gran superficie. Detectamos anidamiento en la comunidad, de magnitud moderada y temporalmente estable, lo que indica cierta plasticidad, resistencia y resiliencia de estas especies ante las perturbaciones humanas y los cambios ambientales. Además, los anfibios se vieron más influenciados por los impactos indirectos de la actividad humana que por perturbaciones directas. Se destaca la necesidad de conservar la metacomunidad en su conjunto, la idoneidad de generar una red de microrreservas para anfibios en Galicia, y la necesidad de mantener al menos, dentro de los espacios naturales protegidos, el tradicional paisaje en mosaico de las comunidades agrosilvopastorales gallegas.
[Resumo] Identilicar os procesos que rexen o ensamblado e desensamblado das comunidades animais resulta fundamental para contribuir á súa conservación. Por iso, exploramos diversos aspectos da estrutura das comunidades de anfibios do noroeste ibérico durante un~a secuencia temporal de once anos (2003-2013), ao langa dun gradiente altitudinal (1-2.036 m.s.n.m) en 3.627 puntos de mostraxe, con énfase no papel das pert~rbacións antrópicas. As análises revelaron que ainda que os anfibios galegos utilizaron todo tipo de medios acuáticos e terrestres, a riqueza de especies foi maior nos puntos de auga con elevada cobertura de macrófitos mergullados, situados a menor altitude, e de gran superficie. Detectamos aniñamento na comunidade, de magnitude moderada e temporalmente estable, o que indica certa plasticidade, resistencia e resiliencia destas especies ante as perturbacións humanas e os cambios ambientais. Ademais, os anfibios vrronse máis influenciados polos impactos indirectos da actividade humana que por perturbacións directas. Destácase a necesldade de conservar a metacomunldade no seu conxunto, a idoneidade de xerar unha red e de microrreservas para anfibios en Galicia, e a necesidade de manter polo menos, dentro dos espazos naturais protexidos, a tradicional paisaxe en mosaico das comunidades agrosilvopastorales galegas.
[Abstract] Identifying the processes governing the assembly and disassembly of animal communities is essential to contribute to their conservation. Thus, we explored different features of the structure of amphibian communities in the NW of the Iberian 'Peninsula during a time sequence of eleven years (2003-2013), along an altitudinal gradient (1-2.036 m.a.s.l.) in 3.627 sample points, with emphasis on the role of human disturbance on community arquitecture. Qur analyses revealed that although Galician amphibians used all kinds of aquatic and terrestrial habitats, species richness was higher in wetlands with high coverage of submerged macrophytes, located at a lower allitude, and with a larger area. We detected nestedness of moderate magnitude and temporally stable in the metacommunity, which shows certain plasticity, resistance and resilience of these species both to human disturbance and environmental changes. IR addition, the presence/absence of amphibians was more influenced by indirect impacts of human activity than by direct perturbance. These results highlight the need to preserve the metacommunity as a whole, the suitability of creating a network of micro-reserves for amphibians in Galicia, and the need to maintain, at least within protected areas, the mosaic landscape of traditional human rural Galician communities.
Keywords
Anfibios-Conservación-Galicia
Anfibios-Poblaciones-Galicia
Rights
Os titulares dos dereitos de propiedade intelectual autorizan a visualización do contido desta tese a través de Internet, así como a súa reproducción, gravación en soporte informático ou impresión para o seu uso privado e/ou con fins de estudo e de investigación. En nengún caso se permite o uso lucrativo deste documento. Estos dereitos afectan tanto ó resumo da tese como o seu contido Los titulares de los derechos de propiedad intelectual autorizan la visualización del contenido de esta tesis a través de Internet, así como su repoducción, grabación en soporte informático o impresión para su uso privado o con fines de investigación. En ningún caso se permite el uso lucrativo de este documento. Estos derechos afectan tanto al resumen de la tesis como a su contenido