Factores predictores de procesos resilientes en jóvenes universitarios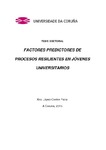 Except where otherwise noted, this item's license is described as Reconocimiento-NoComercial 4.0 Internacional
Title
Factores predictores de procesos resilientes en jóvenes universitarios
Author(s)
Directors
Romay Martínez, José
Ávila Álvarez, Adriana Ivette

Date
2015
Center/Dept./Entity
Universidade da Coruña. Departamento de Psicoloxía
Abstract
[Resumen]El concepto resiliencia, entendido como la capacidad de sobreponerse a la adversidad y salir fortalecido, tiene importantes implicaciones de cara a mejorar el desarrollo global del individuo, ya que se trata de un proceso que puede promocionarse. El objetivo principal del presente trabajo, es identificar qué factores están ayudando a construir procesos resilientes en la etapa universitaria, considerada un momento clave en la evolución del individuo. Para ello se llevó a cabo una investigación con 343 estudiantes de la Universidad de A Coruña, aplicándoles la escala de Resiliencia CD-RISC, un cuestionario sociodemográfico y de actividades en el tiempo libre, de elaboración propia y la escala de Acontecimientos Vitales de Holmes y Rahe. Los resultados obtenidos en los diferentes análisis realizados (correlaciones, comparación de medias, análisis de varianza y análisis de regresión), indican como factores relevantes en el proceso resiliente: el número de actividades realizadas, la situación sentimental, el área de conocimiento, el escuchar música, las horas dedicadas a escribir, el compatibilizar trabajo y estudios, el practicar deporte y la frecuencia de ver a la familia. Estos hallazgos impulsan a promover dichos factores, tanto a nivel individual como dentro del contexto educativo, favoreciendo niveles altos de resiliencia, y consecuentemente, de bienestar emocional.
[Resumo]O concepto resilencia, entendido como a capacidade de sobrepoñerse á adversidade e saír fortalecido, ten importantes implicacións de cara a mellorar o desenvolvemento global do individuo, xa que se trata dun proceso que pode promocionarse. O obxectivo principal do presente traballo é identificar que factores están axudando a construir procesos resilientes na etapa universitaria, considerada un momento clave na evolución do individuo. Para isto, levouse a cabo unha investigación con 343 estudantes da Universidade da Coruña, aplicándolles a escala de Resilencia CD-RISC, un cuestionario sobre actividades no tempo libre de elaboración propia e a escala de Acontecementos Vitais de Holmes e Rahe. Os resultados obtidos nas diferentes análises realizadas (correlacións, comparación de medias, análises de varianza e análises de regresión), indican como factores relevantes no proceso resiliente: o número de actividades realizadas, a situación sentimental, a área de coñecemento, o escoitar música, as horas adicadas a escribir, o compatibilizar traballo e estudos, o practicar deporte, e a frecuencia de ver á familia. Estes achados impulsan a promover ditos factores, tanto a nivel individual como dentro do contexto educativo, favorecendo niveis altos de resiliencia e, consecuentemente, de benestar emocional
[Abstract]The concept of resilience, understood as the ability to overcome adversity and emerge fortified from it, has important implications in regard to improving the whole development of the person, as it is a process that can be promoted. The main objective of this work is to identify which are the factors that help to construct resilient processes during the university period, which is considered to be a key moment in the evolution of the person. To achieve this goal, a research has been performed with 343 students of the A Coruña's University, using the resilience scale CD-RISC, a questionnaire about activities carried out in their spare time (compiled by author), and Life Events Scale of Holmes and Rahe. The results obtained in the various analysis performed (reciprocities, comparison of averages, analysis of variance and regression analysis) indicate as relevant factors in the resilience process: the number of the activities performed, their sentimental state, their knowledge area, listening to music, the time dedicated to write, the combination of work and education, to practice sport and the time spent with their families. These discoveries motivate to promote such factors, at individual level as well as within the educational context, to encourage high levels of resilience and, therefore, emotional well-being.
Keywords
Resiliencia
Estudiantes universitarios-Psicología
Adaptación (Psicología)
Rights
Reconocimiento-NoComercial 4.0 Internacional