Proyecto básico y de ejecución de rehabilitación de vivienda unifamiliar en el lugar de O Freixal nº 4 Sofán, municipio de Carballo, provincia de A Coruña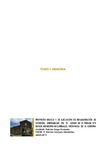 View/Open
Collections
Title
Proyecto básico y de ejecución de rehabilitación de vivienda unifamiliar en el lugar de O Freixal nº 4 Sofán, municipio de Carballo, provincia de A Coruña
Author(s)
Directors
Vázquez Fernández, Ramón
Date
2015
Center/Dept./Entity
Universidade da Coruña. Escola Universitaria de Arquitectura Técnica
Description
Traballo fin de grao (UDC.EUAT). Arquitectura técnica. Curso 2014/2015.
Abstract
[Resumen] El presente trabajo fin de grado aborda la rehabilitación de una vivienda unifamiliar situada en el lugar de O Freixal, perteneciente a la Parroquia de Sofán en el municipio de Carballo, provincia de A Coruña. Se plantean una serie de intervenciones en la vivienda que pretenden dotar a la misma de unas cualidades de habitabilidad, confort y seguridad de las cuales carece en este momento. Se realiza manteniendo la tipología de la vivienda sin alterar demasiado su apariencia inicial.
[Resumo] O presente traballo de fin de grado aborda a rehabilitación de una vivenda unifamiliar situada no lugar de O Freixal, pertencente a Parroquia de Sofán no municipio de Carballo, provincia de A Coruña. Planteanse una serie de intervencións na vivenda que pretenden dotar a mesma de unhas cualidades de habitabilidade, confort e seguridade das cales carece en este momento. Realizase mantendo a tipoloxía da vivenda, sen alterear demasiado a súa apariencia inicial
[Abstract] The present work end of grade tackles the rehabilitation of a single –family housing placed in the place of O FREIXAL, belonging to the Parish of Sofán in the municipality of Carballo, province of A Coruña. There appears a series of interventions in the housing that try to provide the same one of a few qualities of habitability, comfort and safety which he lacks in this moment. It is realized maintaining the typology of the housing without altering too much its initial appearance.
Keywords
Viviendas unifamiliares
Rehabilitación
Casas rurales
Rights
Os titulares dos dereitos de propiedade intelectual autorizan a visualización do contido deste traballo a través de Internet, así como a súa reproducción, gravación en soporte informático ou impresión para o seu uso privado e/ou con fins de estudo e de investigación. En nengún caso se permite o uso lucrativo deste documento. Estos dereitos afectan tanto ó resumo do traballo como o seu contido Los titulares de los derechos de propiedad intelectual autorizan la visualización del contenido de este trabajo a través de Internet, así como su repoducción, grabación en soporte informático o impresión para su uso privado o con fines de investigación. En ningún caso se permite el uso lucrativo de este documento. Estos derechos afectan tanto al resumen del trabajo como a su contenido