Proyecto básico y de ejecución de rehabilitación de vivienda unifamiliar y anexos en el lugar de Vilar 11, parroquia de Carreira, municipio de Ribeira, A Coruña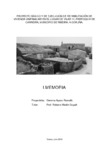 View/Open
Collections
Title
Proyecto básico y de ejecución de rehabilitación de vivienda unifamiliar y anexos en el lugar de Vilar 11, parroquia de Carreira, municipio de Ribeira, A Coruña
Author(s)
Directors
Medín Guyatt, Roberto Antonio
Date
2015
Center/Dept./Entity
Universidade da Coruña. Escola Universitaria de Arquitectura Técnica
Description
Traballo fin de grao (UDC.EUAT). Arquitectura técnica. Curso 2014/2015.
Abstract
[Resumen] El presente Proyecto contempla la Rehabilitación de una vivienda unifamiliar en el lugar de Vilar 11, en la parroquia de Carreira, municipio de Ribeira, provincia de A Coruña, destinada a uso residencial, atendiendo a las necesidades de confort y conservación del inmueble, respetando su condición de vivienda tradicional gallega. Se trata de un Proyecto Básico y de Ejecución para la mencionada Rehabilitación, incorporando lo necesario para satisfacer las exigencias derivadas del CTE y otras normativas de aplicación.
[Abstract] This Project includes the Rehabilitation of a house in the site of Vilar 11, in the parrish of Carreira, municypality of Ribeira, province of A Coruña, for residential use, meeting the comfort and conservation needs of the property, respecting traditional Galician house. This is a Basic and Execution Project for the Rehabilitation said, adding what is necessary to meet the CTE requirements and other applicable regulations.
Keywords
Rehabilitación
Vivienda unifamiliar
Casas rurales
Rights
Os titulares dos dereitos de propiedade intelectual autorizan a visualización do contido deste traballo a través de Internet, así como a súa reproducción, gravación en soporte informático ou impresión para o seu uso privado e/ou con fins de estudo e de investigación. En nengún caso se permite o uso lucrativo deste documento. Estos dereitos afectan tanto ó resumo do traballo como o seu contido Los titulares de los derechos de propiedad intelectual autorizan la visualización del contenido de este trabajo a través de Internet, así como su repoducción, grabación en soporte informático o impresión para su uso privado o con fines de investigación. En ningún caso se permite el uso lucrativo de este documento. Estos derechos afectan tanto al resumen del trabajo como a su contenido