La Banca cooperativa en España: concepto, tipología y análisis del sector cooperativista de crédito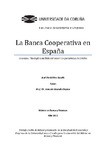 Collections
Title
La Banca cooperativa en España: concepto, tipología y análisis del sector cooperativista de crédito
Author(s)
Directors
Grandío Dopico, A.
Date
2015
Center/Dept./Entity
Universidade da Coruña. Facultade de Economía e Empresa
Description
Traballo fin de mestrado (UDC.ECO). Banca e finanzas. Curso 2014/2015
Abstract
[Resumen] El propósito de este trabajo es el de analizar todo lo concerniente a las cooperativas de crédito. Este tipo de cooperativas, que no tienen una gran participación cuantitativa en el total de las entidades de crédito, juegan un papel de suma importancia en los espacios geográficos y en los ámbitos profesionales (caso de las cooperativas urbanas) en los que operan. Dado que no existe una bibliografía sistemática sobre el asunto, se ha trabajado especialmente sobre los informes anuales.
[Abstract] The purpose of this work is the analyze everything related to credit cooperatives. This type of cooperative, which do not have a large quantitative share in the total of credit institutions, play a very important role in geographic spaces and in professional fields (case of urban cooperatives) in which they operate. Provided that a systematic bibliography does not exist on the matter, one has worked specially on the annual reports.
Keywords
Cooperativa de crédito
Sociedad
Cooperativas urbanas
Cajas rurales
Banca cooperativa
Reestructuración
Cooperative credit society
Urban cooperatives
Rural savings
Banking cooperative
Restructuring
Rights
Os titulares dos dereitos de propiedade intelectual autorizan a visualización do contido deste traballo a través de Internet, así como a súa reproducción, gravación en soporte informático ou impresión para o seu uso privado e/ou con fins de estudo e de investigación. En nengún caso se permite o uso lucrativo deste documento. Estos dereitos afectan tanto ó resumo do traballo como o seu contido Los titulares de los derechos de propiedad intelectual autorizan la visualización del contenido de este trabajo a través de Internet, así como su repoducción, grabación en soporte informático o impresión para su uso privado o con fines de investigación. En ningún caso se permite el uso lucrativo de este documento. Estos derechos afectan tanto al resumen del trabajo como a su contenido