Banca privada : estrategias de las entidades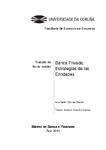 Collections
Title
Banca privada : estrategias de las entidades
Author(s)
Directors
Grandío-Dopico, A.
Date
2015
Center/Dept./Entity
Universidade da Coruña. Facultade de Economía e Empresa
Description
Traballo fin de mestrado (UDC.ECO). Banca e finanzas. Curso 2014/2015
Abstract
[Resumen] La Banca Privada es un sector que ha pasado por una gran evolución en los últimos años, tanto en términos cuantitativos como cualitativos. Por lo tanto, a lo largo de este trabajo se pretenden reflejar aquellos aspectos más relevantes con respecto a estos cambios, presentando inicialmente los aspectos teóricos necesarios para entender su funcionamiento Además de lo anterior, el objetivo es poner en contexto la situación actual de la Banca Privada en España, encuadrándola dentro de un modelo de negocio a seguir por la mayoría de las entidades, con unas estrategias determinadas que cada entidad adquiere y explota, en función de sus propios recursos pero siguiendo un patrón común: crecimiento, captación y fidelización de clientes, perfeccionamiento operativo, etc. Por lo tanto, el objetivo es reflejar todos estos aspectos de una forma clara y práctica, teniendo en cuenta el análisis de la oferta y las tendencias actuales de productos en los que se puede invertir, así como un análisis de la evolución de los mismos, en términos de rentabilidad, partícipes y patrimonios gestionados. En conclusión, el segmento de Banca Privada evoluciona muy rápidamente, y por lo tanto las entidades deben contar con los recursos (económicos, técnicos, humanos, etc.) suficientes para poder anticipar o adaptarse a los mismos, de manera casi inmediata y sin dejar de ser competitivas.
[Abstract] Private Banking is a sector that has undergone a great evolution in recent years, in quantitative and qualitative terms. The most important aspect in relation to this changes are reflicted in this work, initially presenting the theoretical aspects necessary to understand its operation. Besides the above, the objective is to contextualize the current situation of private banking in Spain, encuadrándola within a business model to be followed by most institutions with strategies determined that each entity acquires and exploits, according from its own resources but following a common pattern: growth, customer acquisition and retention, operational improvements, etc. Therefore, the aim is to reflect all these aspects in a clear and practical way, taking into account the analysis of supply and current trends of products that can be invested, and an analysis of the evolution of the same in terms of profitability, participants and assets managed. As a conclusion, the Private Banking' segment evolves very quickly, and therefore institutions should have the resources (financial, technical, human, etc.) sufficient to anticipate or adapt to them, almost immediately without leave to be competitive.
Keywords
Banca privada
Banca personal
Patrimonio familiar
Inversión
Política y estrategia de inversión
Rentabilidad
Riesgo
Crecimiento
Private banking
Personal banking
Family heritage
Investment
Investment policy and strategy
Profitability
Risk
Growth
Rights
Os titulares dos dereitos de propiedade intelectual autorizan a visualización do contido deste traballo a través de Internet, así como a súa reproducción, gravación en soporte informático ou impresión para o seu uso privado e/ou con fins de estudo e de investigación. En nengún caso se permite o uso lucrativo deste documento. Estos dereitos afectan tanto ó resumo do traballo como o seu contido Los titulares de los derechos de propiedad intelectual autorizan la visualización del contenido de este trabajo a través de Internet, así como su repoducción, grabación en soporte informático o impresión para su uso privado o con fines de investigación. En ningún caso se permite el uso lucrativo de este documento. Estos derechos afectan tanto al resumen del trabajo como a su contenido