El Mercado Alternativo Bursátil (MAB) y sus aplicaciones prácticas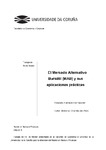 Collections
Title
El Mercado Alternativo Bursátil (MAB) y sus aplicaciones prácticas
Author(s)
Directors
Grandío Dopico, A.
Date
2015
Center/Dept./Entity
Universidade da Coruña. Facultade de Economía e Empresa
Description
Traballo fin de mestrado (UDC.ECO). Banca e finanzas. Curso 2014/2015
Abstract
[Resumen] El Mercado Alternativo Bursátil fue creado para hacer frente a la gran dependencia de las PYMES de la banca abriendo de esta forma una nueva vía de financiación de las empresas a través de los mercados de capitales. Las empresas emisoras podrán llevar a cabo un crecimiento sostenible además de reducir el riesgo de crédito utilizando fuentes alternativas de financiación como en el caso de este mercado, las ampliaciones de capital. A lo largo de este trabajo se hablará sobre las formas de financiación más habituales en función de la etapa de vida de la empresa, de los nuevos mercados alternativos en España y de los homólogos europeos del Mercado Alternativo Bursátil. También se expondrá cuál ha sido la evolución del Mercado Alternativo Bursátil desde que se inició en el año 2008 y cual es el procedimiento de salida poniendo como caso práctico la salida de Ebioss Energy AD.
[Abstract] The Alternative Investment Market was created to compete with banks to finance Small and Mid Caps through the capital markets. Thus, issuers may conduct sustained growth and reduce credit risk. Throughout this paper we will discuss the most common forms of funding based on the stage of life of the company, new alternative markets in Spain and European counterparts on the Alternative Investment Market. Finally, we will expose what has been the evolution of the Alternative Investment Market since it began in 2008 and which is the market exit procedure, taking as a case study the company Ebioss Energy AD.
Keywords
Mercado alternativo bursátil
MAB
Asesor registrado
Proveedor de liquidez
Financiación alternativa
Alternative investment market
Listing sponsor
Nominated advisor
Alternative financial
Rights
Os titulares dos dereitos de propiedade intelectual autorizan a visualización do contido deste traballo a través de Internet, así como a súa reproducción, gravación en soporte informático ou impresión para o seu uso privado e/ou con fins de estudo e de investigación. En nengún caso se permite o uso lucrativo deste documento. Estos dereitos afectan tanto ó resumo do traballo como o seu contido Los titulares de los derechos de propiedad intelectual autorizan la visualización del contenido de este trabajo a través de Internet, así como su repoducción, grabación en soporte informático o impresión para su uso privado o con fines de investigación. En ningún caso se permite el uso lucrativo de este documento. Estos derechos afectan tanto al resumen del trabajo como a su contenido