Malos tratos a personas mayores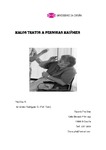 View/Open
Collections
Title
Malos tratos a personas mayores
Author(s)
Directors
Hernández Rodríguez, Gerardo
Date
2012
Center/Dept./Entity
Universidade da Coruña. Facultade de Ciencias da Saúde
Description
Traballo fin de mestrado (UDC.FCS). Mestrado Universitario en Xerontoloxía. Curso 2012/2013.
Abstract
[Resumen] El problema de los malos tratos a las personas mayores existe en casi todas las sociedades. Aunque en la mayoría de estas no haya suficiente información sobre los mismos, no implica que no exista este tipo de violencia pero, la hay y se produce en el anonimato social y político y su percepción también depende del sistema de valores que impera en cada sociedad y en cada cultura. Para la realización de este trabajo se ha buscado bibliografía científica sobre el maltrato a las personas de edad en la base de datos Medline. Dicha búsqueda está sujeta a las normas exigidas y los artículos están acotados entre los años 1980-2012.
[Abstract] The problem of elderly abuse exists in almost all societies. Although in most of these do not have enough information about them, does not imply that this kind of violence there is, but there is and produces social anonymity and politician and his perception is also dependent on the value system that prevails in every society and in every culture. For the realization of this work has been sought scientific literature on the elderly abuse in the Medline database. Such a search is subject to the standards required and the articles are bounded between the years 1980-2012.
Keywords
Malos tratos a personas mayores
Abuso y negligencia
Jurisprudencia
Estrategias de intervención
Elder abuse
Abuse and neglect
Jurisprudence
Intervention strategies
Rights
Os titulares dos dereitos de propiedade intelectual autorizan a visualización do contido deste traballo a través de Internet, así como a súa reproducción, gravación en soporte informático ou impresión para o seu uso privado e/ou con fins de estudo e de investigación. En nengún caso se permite o uso lucrativo deste documento. Estos dereitos afectan tanto ó resumo do traballo como o seu contido Los titulares de los derechos de propiedad intelectual autorizan la visualización del contenido de este trabajo a través de Internet, así como su repoducción, grabación en soporte informático o impresión para su uso privado o con fines de investigación. En ningún caso se permite el uso lucrativo de este documento. Estos derechos afectan tanto al resumen del trabajo como a su contenido