Atención farmacéutica especializada: polifarmacia en mayores, problemas y soluciones asociados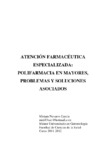 Collections
Title
Atención farmacéutica especializada: polifarmacia en mayores, problemas y soluciones asociados
Author(s)
Date
2012
Center/Dept./Entity
Universidade da Coruña. Facultade de Ciencias da Saúde
Description
Traballo fin de mestrado (UDC.FCS). Mestrado Universitario en Xerontoloxía. Curso 2011/2012.
Abstract
[Resumen] Debido al llamativo aumento de la esperanza de vida, cada vez persisten más las pluripatologías asociadas a la edad dando lugar así a una necesidad de sistemas socio-sanitarios para cubrir las demandas específicas de este sector poblacional. La polimedicación, puede producir diversidad de resultados negativos tanto para los pacientes como para los centros sanitarios. Estos resultados negativos incluyen los efectos adversos de los medicamentos, hospitalizaciones, empeoramiento de la calidad de vida y afectación económica por el aumento innecesario del coste sanitario, entre otros. El objetivo del trabajo es demostrar cómo una atención farmacéutica especializada y un seguimiento farmacoterapéutico adecuado pueden resultar piezas fundamentales en el engranaje de la buena calidad de vida de los mayores, reduciendo o eliminando problemas relacionados con los medicamentos a través de una variedad de acciones, como disminuir el número de fármacos empleados, prevenir y detectar las reacciones adversas, aumentar el cumplimiento terapéutico, mejorar el conocimiento terapéutico del enfermo y en definitiva, mejorar la calidad de vida de los pacientes. Se concluye que las intervenciones de la Atención Farmacéutica Especializada son imprescindibles para mejorar los resultados farmacoterapéuticos de los polimedicados y reducir los costes sociosanitarios.
[Abstract] Due to the striking increase in life expectancy, ever more persist the pluripatology associated with the age giving rise to a need for socio-sanitary systems to meet the specific demands of this population sector. The polimedicación can produce negative results for both patients and health care diversity. These negative outcomes associated with medications include the adverse effects of medications, hospitalizations, worsening of the quality of life and economic affection as the unnecessary increase in health costs. The objective is to demonstrate as a specialized pharmaceutical care and appropriate pharmacotherapy follow-up may be key pieces in the machinery of the good quality of life of our elderly people, by reducing or eliminating problems related to medications through a variety of interventions, such as reducing the number of drugs used to avoiding self-medication, prevent and detect adverse drug reactions increase treatment adherence, enhance the therapeutic knowledge of illness and ultimately improve the quality of life of patients. This monographic review concludes that the interventions of the specialized pharmaceutical care are essential to improve the results available from the patients. It is also helpful to reduce social costs.
Keywords
Polimedicación
Farmacéuticos
Edad
Efectos iatrogénicos
Interacciones entre medicamentos
Polipharmacy
Pharmacists
Age
Iatrogenic effects
Interactions between medications
Rights
Os titulares dos dereitos de propiedade intelectual autorizan a visualización do contido deste traballo a través de Internet, así como a súa reproducción, gravación en soporte informático ou impresión para o seu uso privado e/ou con fins de estudo e de investigación. En nengún caso se permite o uso lucrativo deste documento. Estos dereitos afectan tanto ó resumo do traballo como o seu contido Los titulares de los derechos de propiedad intelectual autorizan la visualización del contenido de este trabajo a través de Internet, así como su repoducción, grabación en soporte informático o impresión para su uso privado o con fines de investigación. En ningún caso se permite el uso lucrativo de este documento. Estos derechos afectan tanto al resumen del trabajo como a su contenido