Papel del logopeda en un centro gerontológico de estancias diurnas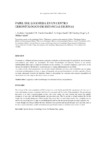 View/Open
Title
Papel del logopeda en un centro gerontológico de estancias diurnas
Author(s)
Date
2002
Citation
Lodeiro Fernández L, Varela González N, López Sande A, Gandoy Crego M, Millán Calenti J. Papel del logopeda en un centro gerontológico de estancias diurnas. Rev Logop Fon Audiol. 2002;22(1):42-48.
Abstract
[Resumen] El aumento de población anciana en nuestra sociedad es un hecho que ha provocado la aparición de nuevos recursos socio-sanitarios que cubran sus necesidades. El Centro Gerontológico de Estancias Diurnas es un servicio multidisciplinar diurno que se ocupa de la atención social y sanitaria, con actuación terapéutica y preventiva, de los mayores facilitando la vida laboral de las personas que se ocupan ordinariamente de su cuidado. Los centros de día deben proporcionar una atención integral debiendo, por tanto, estar constituidos por un equipo profesional multidisciplinar en el que la figura del logopeda esté presente desarrollando una labor específica. Parece, por tanto, interesante delimitar las funciones básicas a desempeñar, los trastornos más comunes susceptibles de intervención, así como, algunas directrices a tener en cuenta.
[Abstract] The increase of the senior population in our society is an event that has provoked the appeareance of a new sort of social and sanitary recource, a structure that has to be concerned with the needs of this population. The gerontologic day-center is in brief a multidisciplinar service, that works during day time, treating the social and sanitary occupation of our elder with both therapeutic and preventive acts. This to provide a normal working life for the people who are usually taking care of these people. Day-centers have to answer these needs with a complete service, and for that reason they have to apile to a multidisciplinar staff in wich the speech-therapist develops a specific role. It seems though interesting to define the basic functions that a professional speech-therapist has to perform, such as the most common disorders capable of treatment and general intervention, as well derectives to bear in mind.
Keywords
Logopedia
Centro gerontológico de estancias diurnas
Envejecimiento
Speech therapy
Gerontology center for daytime stay
Ageing
Editor version
Rights
This is the author's version of a work that was accepted for publication in "Revista de logepedia, foniatría y audiología". Changes resulting from the publishing process, such as peer review, editing, corrections, structural formatting, and other quality control mechanisms may not be reflected in this document. Changes may have been made to this work since it was submitted for publication. A definitive version was subsequently published in Elsevier.