Estudio de la evolución de los compuestos nitrogenados de un sistema biológico con aporte de CO2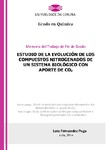 Title
Estudio de la evolución de los compuestos nitrogenados de un sistema biológico con aporte de CO2
Alternative Title(s)
Estudo da evolución dos compostos nitroxenados dun sistema biolóxico co aporte de CO2
Study of the evolution of nitrogen compounds from a biological system with CO2 contribution

Author(s)
Directors
Avecilla Porto, Fernando Francisco
Carlosena Zubieta, Alatzne

Date
2014
Center/Dept./Entity
Universidade da Coruña. Facultade de Ciencias
Description
Traballo fin de grao (UDC.CIE). Química. Curso 2013/2014
Abstract
[Resumen] El presente estudio tiene como objeto evaluar la evolución de los compuestos nitrogenados de un sistema biológico variando la cantidad de CO2 aportada al mismo. El sistema considerado es un acuario plantado de agua dulce (80 L). El trabajo experimental se centra en la realización de una serie de ensayos aportando al sistema cantidades variables de compuestos nitrogenados y de otros nutrientes inorgánicos (KNO3, KH2PO4), en presencia de distintas concentraciones de CO2 disuelto, de acuerdo con una estrategia previamente establecida. A continuación se lleva a cabo la determinación de los principales parámetros analíticos que permiten evaluar las condiciones del agua de un acuario: nitratos, nitritos, amonio, pH, conductividad, dureza y alcalinidad. Se complementa el estudio con la determinación del contenido de nitrógeno y carbono total así como carbono orgánico total en la biomasa vegetal producida en el acuario. De los resultados obtenidos se pudo establecer que el sistema se comporta de forma diferente en función de los niveles aportados de CO2: - Cuando la cantidad de CO2 aportada es baja, el sistema obtuvo una parte del nitrógeno de los nitratos añadidos al agua en forma de KNO3 y otra parte del amonio que se produce de forma natural en el sistema. - Al incrementar el aporte de CO2 aumentó significativamente el consumo de nitratos a partir del KNO3 añadido. - Al estudiar la biomasa generada en el sistema se obtuvo un notable aumento de la masa total cuando se incrementó el aporte de CO2, así como del nitrógeno absorbido. Esto nos lleva a concluir que el sistema ha incrementado su actividad biológica como consecuencia del aumento en el aporte de CO2.
[Abstract] The present study aims to assess the evolution of the nitrogen compounds of a biological system by varying the amount of CO2 provided. The system is an Aquarium of fresh water (80 L) contains a suit of plants. Experimental procedure focuses on conducting several trials where the system is fed with variable amounts of nitrogen compounds and other inorganic nutrients (KNO3, KH2PO4), while different levels of CO2 are applied, in accordance with a previously established strategy. The determination of the principal analytical parameters to evaluate the water characteristics of the aquarium is then accomplished: nitrates, nitrites, ammonia, pH, conductivity, hardness and alkalinity. The study is complemented with the determination of the content of nitrogen, total carbon and total organic carbon in the plant biomass grown in the Aquarium. From the results, it can be established that the system behaves differently depending on the levels of CO2: -When the amount of CO2 is low, the system obtains part of the nitrogen consumed from the nitrates added to the water in the form of KNO3. -when the contribution of CO2 increases, the consumption of nitrates enhanced significantly from the KNO3 added. - When the biomass generated in the system was studied, a significant increase in the total mass was registered when the contribution of CO2 was high, as well as the absorbed nitrogen. This leads to the conclusion that the system has increased its biological activity because of the increase in the contribution of CO2.
[Resumo] O presente traballo ten como obxetivo avaliar a evolución dos compostos nitroxenados dun sistema biolóxico variando a cantidade de CO2 achegada ao mesmo. O sistema considerado é un acuario plantado de auga doce (80 L). O traballo experimental céntrase na realización dunha serie de ensaios aportando ao sistema cantidades variables de compostos nitroxenados e doutros nutrintes inorgánicos (KNO3, KH2PO4), en presenza de distintas concentracións de CO2 disolto, dacordo cunha estratexia previamente establecida. A continuación lévase a cabo a determinación dos principais parámetros analíticos que permiten avaliar as condiciones da auga dun acuario: nitratos, nitritos, amonio, pH, conductividade, dureza e alcalinidade. Compleméntase o estudo coa determinación do contido de nitróxeno e carbono total e mais o carbono orgánico total na biomasa vexetal producida no acuario. Dos resultados obtidos púidose establecer que o sistema se compórta de forma diferente en función dos niveis achegados de CO2: - Cando a cantidade de CO2 aportada é baixa, o sistema obtivo unha parte do nitróxeno dos nitratos engadidos á auga en forma de KNO3 e outra parte do amonio que se produce de forma natural no sistema. - Ao incrementar a achega de CO2 aumentou significativamente o consumo de nitratos a partir do KNO3 engadido. - Ao estudar a biomasa xerada no sistema obtívose un notable aumento da masa total cando se incrementou a achega de CO2, así como o nitróxeno absorbido. Isto lévanos a concluir que o sistema incrementou a súa actividade biolóxica como consecuencia do aumento na achega de CO2.
Keywords
Dióxido de carbono
Contenido en nitrógeno del agua
Ciclo del nitrógeno
Sistemas biológicos
Concentraciones de CO2 disuelto
Actividad biológica
Rights
Os titulares dos dereitos de propiedade intelectual autorizan a visualización do contido deste traballo a través de Internet, así como a súa reproducción, gravación en soporte informático ou impresión para o seu uso privado e/ou con fins de estudo e de investigación. En nengún caso se permite o uso lucrativo deste documento. Estos dereitos afectan tanto ó resumo do traballo como o seu contido Los titulares de los derechos de propiedad intelectual autorizan la visualización del contenido de este trabajo a través de Internet, así como su repoducción, grabación en soporte informático o impresión para su uso privado o con fines de investigación. En ningún caso se permite el uso lucrativo de este documento. Estos derechos afectan tanto al resumen del trabajo como a su contenido