Accesibilidad y usabilidad de las aplicaciones computarizadas de estimulación cognitiva:Telecognitio®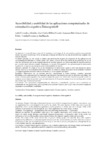 Title
Accesibilidad y usabilidad de las aplicaciones computarizadas de estimulación cognitiva:Telecognitio®
Alternative Title(s)
Accesibility and usability of computer-based cognitive stimulation: Telecognitio®
Author(s)
Date
2009-10-05
Citation
González-Abraldes I, Millán-Calenti JC, Balo-García A, Tubío J, Lorenzo T, Maseda A. Accesibilidad y usabilidad de las aplicaciones computarizadas de estimulación cognitiva:Telecognitio®. Rev Esp Geriatr Gerontol. 2010;45(1):26-29.
Abstract
[Resumen] Introducción: A pesar del gran avance de la tecnología en el campo de la intervención cognitiva computarizada, existen muy pocos estudios que sirvan de guía para la mejora del diseño de este tipo de herramientas dirigidas a las personas mayores. El objetivo principal de este trabajo es realizar una aproximación al grado de adaptación de dos aplicaciones de psicoestimulación utilizadas en nuestro medio. Así´ mismo, a través de la observación de los problemas de uso de estas dos aplicaciones uso en una pequeña muestra de personas mayores, se elabora una tabla de requisitos mínimos que a nuestro juicio deberían cumplir. Finalmente, se presenta Telecognitio®, una aplicación para la estimulación cognitiva de los mayores que incorpora ciertas funcionalidades de interés. Material y métodos: Se evalúa el uso de dos herramientas de intervención cognitiva sobre una muestra de sujetos mayores a través de un cuestionario elaborado al efecto. Se realiza un análisis descriptivo de los resultados obtenidos y se sugieren posibles relaciones entre los resultados y el nivel cognitivo del sujeto. Resultados: Observamos que las personas mayores, especialmente si tienen deterioro cognitivo, presentan dificultades en la comprensión de los enunciados que transmiten las instrucciones para las diferentes actividades. Así mismo, el tiempo para responder a las cuestiones planteadas parece ser insuficiente. Cuando la pantalla es táctil se producen errores, tanto de precisión como de mantenimiento de la presión, aunque el uso de este dispositivo resulte más intuitivo que el ratón convencional. Conclusiones: Las aplicaciones computarizadas de valoración y estimulación cognitiva van a constituirse en herramientas de uso generalizado entre la población de personas mayores, por lo que sería conveniente adaptarlas mejorando su accesibilidad y usabilidad.
[Abstract] Introduction: Despite of the huge technological advance in the field of computer-based cognitive interventions, very few applications have been designed to be used by the elderly. The main objective of this study was to assess the adaptability of two psycho-stimulation applications used in geriatrics. A further aim was to design a table of the minimum requirements to be met through the use of these applications in a small sample of elders. In addition, Telecognitios® —an application with some interesting functionalities— is presented. Material and methods: We performed a pilot test of two cognitive intervention tools, which were evaluated by a sample of elderly people through a specifically designed questionnaire. A descriptive study of the results was performed, as well as of the possible correspondence between the subjects' cognitive status and the results. Results: The results of this study indicate that, in general, elderly people and especially those with cognitive impairment had difficulties in understanding the instructions for the various activities, as well as little time to answer the questions. In the case of a touch screen, errors occurred, both due to accuracy and pulse time, although this device is more intuitive than the conventional mouse. Conclusions: Computer-based cognitive stimulation and evaluation applications will become widely used among the elderly. Therefore, these applications should be adapted for universal accessibility and usability.
Keywords
Envejecimiento
Programas computerizados
Terapia cognitiva
Deterioro cognitivo
Aging
Computer-assisted
Cognitive therapy
Cognitive disorders
Editor version
Rights
NOTICE: this is the author's version of a work that was accepted for publication in Revista Española de Geriatría y Gerontología. Changes resulting from the publishing process, such as peer review, editing, corrections, structural formatting, and other quality control mechanisms may not be reflected in this document. Changes may have been made to this work since it was submitted for publication.