Tendencia depresiva y aplicación de un programa de terapia ocupacional en un grupo de ancianos institucionalizados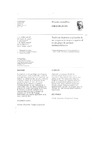 Title
Tendencia depresiva y aplicación de un programa de terapia ocupacional en un grupo de ancianos institucionalizados
Author(s)
Date
1997-07
Citation
Millán Calenti JC, Fuertes de Castro M, Jara López A, Mayán Santos JM, Gandoy Crego M, Riveiro López MP. Tendencia depresiva y aplicación de un programa de terapia ocupacional en un grupo de ancianos institucionalizados. Gerokomos.8(21);139-144.
Abstract
[Resumen] La depresión es una patología muy frecuente en los ancianos institucionalizados, siendo de particular importancia el buscar soluciones que mejoren su calidad de vida; por ello, mediante el presente trabajo de intervención, hemos tratado de mejorar el estado de ánimo depresivo de un colectivo de ancianos institucionalizados en una residencia de la tercera edad, a los que hemos sometido a un programa de terapia ocupacional de 40 horas de duración, realizando medición de la tendencia depresiva antes y después del programa con el Test de Yesavage, observándose una mejora significativa en la mayor parte de ellos.
[Abstract] Depression is a common disorder in institucionalizated elderly persons, so it is important to find solutions that improve their quality of life. This intervention study was designed to improve teh depressive mood of a group of institucionalizated elderly persons in a nursing home using a 40-hour occupational therapy program. Depressive tendency was measured before and after the program using the Yesavage test. Most patients showed significant improvement.
Keywords
Anciano
Depresión
Terapia ocupacional
Elderly
Depression
Occupational therapy