Enfermedad de Alzheimer y degeneración macular asociada a la edad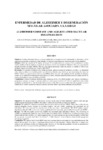 Title
Enfermedad de Alzheimer y degeneración macular asociada a la edad
Author(s)
Date
2006-02-20
Citation
Roca-Santiago HM, Lago-Bouza JR, Millán-Calenti JC, Gómez-Ulla-Irazábal F. Enfermedad de Alzheimer y degeneración macular asociada a la edad. Arch Soc Esp Oftalmol. 2006;81:73-78.
Abstract
[Resumen] Objetivos: Analizar diferentes factores de riesgo implicados en la aparición de la enfermedad de Alzheimer y de la degeneración macular asociada a la edad, tratando de establecer una relación de asociación entre ambas entidades. Métodos: Sobre una muestra de 57 sujetos, de los que 33 presentan demencia (casos) y 24 no (controles) se realiza estudio analítico a fin de establecer el grado de asociación entre la enfermedad de Alzheimer (EA) y la degeneración macular asociada a la edad (DMAE). Para ello, tras realizar anamnesis a todos los sujetos, se estudia el fondo de ojo mediante cámara no midriática tipo Topcon TRV-50VT. Resultados: De acuerdo a la hipótesis de trabajo planteada, aplicada la razón de productos cruzados o de disparidad (odds ratio) se obtuvo un resultado positivo que determina relación causa efecto, ya que el porcentaje de casos con DMAE (42,4%) es superior al de controles con DMAE (25%). Por otro lado mediante la Chi cuadrado de Pearson, aunque no se establecieron diferencias significativas, los datos obtenidos muestran protección en el grupo control de acuerdo al estadístico exacto de Fisher (p=0,649). Conclusiones: Existen evidencias suficientes para pensar que la EA y la DMAE podrían tener factores etiológicos y patogénicos comunes, y aunque en nuestro estudio no hemos podido establecer la relación significativa entre ambas patologías, posiblemente en base al tamaño de la muestra o a las diferencias de edades entre ambos grupos, creemos establecida la posible asociación como para plantear un futuro trabajo que pueda confirmar estos hallazgos.
[Abstract] Objectives: We analysed different risk factors involved in the onset of both Alzheimer's disease (AD) and age-related macular degeneration (ARMD). The putative relation between both disorders was studied. Methods: We studied 57 subjects to determine the correlation between AD and ARMD. Thirty-three of the subjects suffered dementia (cases), whereas 24 of them (controls) did not. Firstly, anamnesis was performed for all individuals. We then examined the macular area of the eye using a non-midriatic TRV-50VT fundus camera. Significant odds ratio (OR) results were used as a statistical tool to survey the putative link between AD and ARMD. Results: The OR test results showed that ARMD was associated with Alzheimer's disease. The occurrence of ARMD was significantly higher for cases (42.4%) than for controls (25%). On this basis, we inferred a cause-effect relation linking both variables. Our dataset suggested that the control group was more protected against ARMD than the case group, as revealed by Fisher's exact test (P = 0.649). However, such a difference between both groups was not strongly supported. Conclusions: We suggest that AD and ARMD may have common factors concerning etiology and pathogenesis. Our dataset did not allow us to show a significant relation between both disorders, which is likely due to sample size and/or to age differences in the two studied groups. Even so, we feel that the possibility of such an association is justified, and future surveys to test this possibility are warranted.
Keywords
Enfermedad de Alzheimer
Degeneración macular asociada a la edad
Demencia
Drusas
Alzheimer's disease
Age-related macular degeneration
Neurodegeneration
Retinal drussen
Rights
This is the author's version of a work that was accepted for publication in "Arch Soc Esp Oftalmol". Changes resulting from the publishing process, such as peer review, editing, corrections, structural formatting, and other quality control mechanisms may not be reflected in this document. Changes may have been made to this work since it was submitted for publication.