Predictores de mala salud autopercibida en una población de personas mayores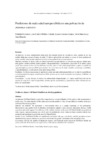 View/Open
Title
Predictores de mala salud autopercibida en una población de personas mayores
Author(s)
Date
2013-09-14
Citation
Lorenzo T, Millán-Calenti JC, Lorenzo-López L, Sánchez A, Maseda A. Predictores de mala salud autopercibida en una población de personas mayores. Rev Esp Geriatr Gerontol. 2013;48(6):272-275.
Abstract
[Resumen] nIntroducción: La salud autopercibida forma parte del concepto global de «calidad de vida», además deser una medida válida para conocer el estado de salud. El objetivo principal de este trabajo es evaluarel efecto predictor de ciertas variables sobre la mala salud autopercibida en una población de personasmayores.Material y métodos: Se lleva a cabo un estudio transversal con una muestra de 140 personas mayores.Mediciones: edad, género, estudios, hábitat, estado cognitivo, discapacidad física, enfermedades, per-cepción de la salud y apoyo social. Para analizar el efecto de las diferentes variables sobre la mala saludautopercibida se aplicó un modelo de regresión logística y una curva ROC para establecer los valoresde corte de dichas variables, con la mejor sensibilidad y especificidad para la predicción de mala saludautopercibida.Resultados: Se observa una asociación significativa entre una mala salud autopercibida con la edad, lacomorbilidad, y con la percepción de apoyo social funcional débil, mientras que no existía asociación conel género, el hábitat o el nivel educativo.Conclusiones: La edad elevada, el número de enfermedades diagnosticadas, y el apoyo social funcionalson los factores de riesgo de la salud autopercibida, mientras que las características y repercusiones delas enfermedades no deben ser consideradas.
[Abstract] Introduction: Self-Rated Health is part of the comprehensive concept of Quality of Life and is a validmeasurement of health status. The main objective of this study was to test the predictive value of somedifferent variables on the poor Self-Rated Health among elders.Material and methods: We performed a cross-sectional study on a sample consisting of 140 participants.Measurements: age, gender, level of education, environment, cognitive status, physical impairment,diseases, health perception and social support. The influence of the studied variables on the poor Self-Rated Health was performed with a logistic regression analysis and a ROC curve to establish the cut-offvalues for these variables with the best sensitivity and specificity to predict the poor Self-Rated Health.Results: A poor Self-Rated Health was significantly associated with age, comorbidity, and the percep-tion of poor functional social support, whereas no association was found with gender, environment andeducational level.Conclusions: Old age, the number of diagnosed diseases, and functional social support are Self-RatedHealth risk factors, while the characteristics and repercussions of the diseases should not be considered.
Keywords
Salud autopercibida
Comorbilidad
Apoyo social
Envejecimiento
Self-rated health
Comorbidity
Social support
Aging
Editor version