Estudio exploratorio sobre el uso de instrumentos de evaluación cognitiva y neuropsicológica en centros de personas mayores de Galicia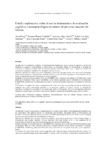 View/Open
Title
Estudio exploratorio sobre el uso de instrumentos de evaluación cognitiva y neuropsicológica en centros de personas mayores de Galicia
Author(s)
Date
2014-10-31
Citation
Facal D, Mouriz Corbelle R, Balo-García A, González-Abraldes I, Caamaño Ponte X, Dosil Díaz C, Millán-Calenti JC. Estudio exploratorio sobre el uso de instrumentos de evaluación cognitiva y neuropsicológica en centros de personas mayores de Galicia. Rev Esp Geriatr Gerontol. 2015;50(2):62-70.
Abstract
[Resumen] Introducción: La evaluación cognitiva es una herramienta fundamental en los centros de mayores a la hora de planificar la atención e individualizar la intervención. La Sociedade Galega de Xerontoloxía e Xeriatría ha constituido un Grupo de Trabajo sobre Evaluación Cognitiva y Neuropsicológica con el objetivo de estudiar los instrumentos empleados e identificar los principales retos en esta área. Material y métodos: Se realizó un estudio exploratorio a través de encuesta en línea a los socios de la Sociedade Galega de Xerontoloxía e Xeriatría entre diciembre de 2013 y enero de 2014. Participaron 49 profesionales, de los cuales 26 eran profesionales de la psicología y 10 de la medicina. Resultados: Se encuentra un consenso en el uso del MMSE como instrumento de cribado y del GDS como escala global de la demencia. Existe mayor variabilidad en las baterías generales para la valoración de las demencias (CAMCOG-R, ADAS-Cog, Test Barcelona abreviado) y en el uso de pruebas específicas y de baterías de deterioro severo. Conclusiones: Se sugiere un riesgo de polarización del sector, en el que un porcentaje elevado de profesionales emplearía unos pocos instrumentos generales y un porcentaje peque˜no un número elevado de instrumentos específicos. Se subraya la necesidad de un consenso que facilite el desempe˜no, objetive las necesidades formativas, maximice la relación entre evaluación e intervención cognitiva y proporcione herramientas para valorar el cambio.
[Abstract] Introduction: Cognitive assessment is a fundamental tool in centres for the elderly when planning individualized care and intervention. The Galician Society of Gerontology and Geriatrics (Sociedade Galega of Xerontoloxía and Xeriatría) has formed a Working Group on Cognitive and Neuropsychological Assessment, with the aim of studying the tools used and to identify the main challenges in this area. Material and methods: An exploratory study was conducted via an online questionnaire with Sociedade Galega of Xerontoloxía and Xeriatría members between December 2013 and January 2014. It was completed by 49 professionals, of whom 26 were professionals in psychology and 10 medical doctors. Results: Consensus was found on the use of the MMSE as a screening tool, as well as the Global Deterioration Scale for dementia. There is a wide variation in the choice of general batteries of tests for the assessment of dementia (CAMCOG-R, ADAS-Cog, abbreviated Barcelona Test), and of the use of specific tests and a severe impairment battery. Conclusions: The risk of bias in the sector is suggested, with a high percentage of general practitioners using a few tools, and a small percentage using a large number of specific tools. The need for a consensus is stressed in order to facilitate assessment, objectify training needs, maximize the relationship between assessment and cognitive intervention, and provide tools to assess change.
Keywords
Evaluación cognitiva
Evaluación neuropsicológica
Tests de cribado
Escalas globales de demencia
Baterías de evaluación del deterioro severo
Cognitive assessment
Neuropsychological assessment
Screening tests
Global dementia scales
Severe impairment batteries
Editor version