Caracterización de un colectivo de cuidadores informales de acuerdo a su percepción de la salud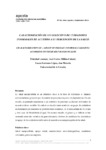 Except where otherwise noted, this item's license is described as Licencia Creative Commons Recococimiento-NoComercial-CompartirIgual (v.4.0)
Title
Caracterización de un colectivo de cuidadores informales de acuerdo a su percepción de la salud
Author(s)
Date
2014-07
Citation
Lorenzo T, Millán-Calenti JC, Lorenzo-López L, Maseda A. Caracterización de un colectivo de cuidadores informales de acuerdo a su percepción de la salud. Aposta. 2014;62:1-20.
Abstract
[Resumen] La salud autopercibida es un elemento clave a la hora de minimizar el impacto socioeconómico generado por el cuidado de personas mayores con dependencia. En este estudio, se pretende caracterizar a un colectivo de personas cuidadoras informales de acuerdo a dicha variable. Se realizó un estudio transversal con un grupo de cuidadores seleccionados por muestreo no probabilístico incidental, en el área urbana de A Coruña y área rural de Mondoñedo (Lugo). En nuestro estudio, el género y el hábitat se han mostrado como dos variables de gran relevancia a la hora de establecer las necesidades de apoyo de los cuidadores informales de acuerdo a su autopercepción de la salud.
[Abstract] Self-rated health is a useful key element to determine the need of intervention in order to minimize the socio-sanitary impact the care of dependent elderly. This article pretends characterize primary informal caregivers according to self-rated health. Cross-sectional study of an incidental non-probability sample with 35 Spanish caregivers, from an urban area of A Coruña city and a rural area of Mondoñedo (Lugo), was designed. In our study, gender and habitat have been shown as two highly relevant variables when setting the support needs of informal caregivers according to their self-rated health.
Keywords
Salud autopercibida
Apoyo social
Características socio-demográficas
Cuidadores informales
Personas mayores
Self-rated health
Social support
Demographic characteristics
Family caregiver
Elderly
Rights
Licencia Creative Commons Recococimiento-NoComercial-CompartirIgual (v.4.0)
Reconocimiento-NoComercial-CompartirIgual 4.0 Internacional