Fondos de Inversión: evolución histórica y situación actual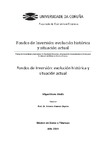 View/Open
Collections
Title
Fondos de Inversión: evolución histórica y situación actual
Author(s)
Directors
Grandío Dopico, A.
Date
2014
Center/Dept./Entity
Universidade da Coruña. Facultade de Economía e Empresa
Description
Traballo fin de mestrado (UDC.ECO). Banca e finanzas. Curso 2013/2014
Abstract
[Resumen] A través de este trabajo se pretende abordar un tema muy importante en el área de la inversión como son las Instituciones de Inversión Colectiva y su evolución desde su aparición en España en los años cincuenta. Esta tardía aparición de los fondos se justifica por el escaso desarrollo del mercado de capitales y la ausencia de una legislación específica. No obstante, posteriormente, viviría un buen momento lo que supuso su consolidación en el sistema financiero español. En el presente trabajo se pretende abarcar la evolución de la inversión colectiva tomando como referencia las variables más significativas de estos fondos, el número de fondos, el patrimonio y el número de partícipes a lo largo de sus distintas etapas.
[Abstract] Through this project, it is intended to approach a very important topic in the investment area, like Collective Investment Institutions and their evolution since their appearance in Spain, back in the 1950s. This late appearance is justified by the marginal development and the absence of specific legislation. However, afterwards it would experiment a good moment, which supposed their consolidation in the Spanish financial system. In this project it is intended to cope the collective investment evolution, taking by reference the most significant variables in this funds, like funds number, equity and number of participants during their different stages.
Keywords
Evolución
Fondos de inversión
Patrimonio
Inversión
Sistema financiero
Evolution
Investment funds
Patrimony
Investment
Financial system
Rights
Os titulares dos dereitos de propiedade intelectual autorizan a visualización do contido deste traballo a través de Internet, así como a súa reproducción, gravación en soporte informático ou impresión para o seu uso privado e/ou con fins de estudo e de investigación. En nengún caso se permite o uso lucrativo deste documento. Estos dereitos afectan tanto ó resumo do traballo como o seu contido Los titulares de los derechos de propiedad intelectual autorizan la visualización del contenido de este trabajo a través de Internet, así como su repoducción, grabación en soporte informático o impresión para su uso privado o con fines de investigación. En ningún caso se permite el uso lucrativo de este documento. Estos derechos afectan tanto al resumen del trabajo como a su contenido