Rehabilitacion Pazo de la Torre para uso residencial vivienda, Santa Comba, A Coruña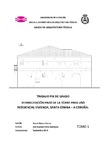 View/Open
Collections
Title
Rehabilitacion Pazo de la Torre para uso residencial vivienda, Santa Comba, A Coruña
Author(s)
Directors
Porta Rodríguez, Manuel
Date
2014
Center/Dept./Entity
Universidade da Coruña. Escola Universitaria de Arquitectura Técnica
Description
Traballo fin de grao (UDC.EUAT). Arquitectura técnica. Curso 2013/2014
Abstract
[Resumen] El presente trabajo de fin de grado aborda la rehabilitación del Pazo de la Torre ubicado en el lugar de La Torre, el cual pertenece al ayuntamiento de Santa Comba(A Coruña). La rehabilitación se llevara a cabo para un uso de residencial vivienda, y las premisas que se tienen en cuenta se basan recuperar la esencia de lo que era este edificio cuando se construyó. Pues debido a una serie de actuaciones llevadas a cabo en los años 50 y 80 propiciaron su deterioro y pérdida de identidad por los materiales y soluciones constructivas utilizadas, las cuales no se corresponden con un edificio característico de la arquitectura popular de Galicia.
[Resumo] O presente traballo de fin de grado aborda a rehabilitación do Pazo da Torre, ubicado no lugar de A Torre, o cal pertence o concello de Santa Comba(A Coruña). A rehabilitación levarase a cabo para un uso de residencial vivenda, e as premisas que se teñen en conta basaronse na recuperación da esencia deste edificio cando se construiu. Pois debido a unha serie de actuación levadas a cabo nos anos 50 e 80 propiciaron o seu deterioro e perdida de identidade como motivo dos materiais e solucions constructivas utilizadas, as cales non se corresponden cun edificio característico da arquitectura popular de Galicia.
[Abstract] This paper addresses End of Grade rehabilitation Pazo de la Torre located at the site of the Tower, which belongs to the municipality of Santa Comba (A Coruña). Rehabilitation will be held for use in residential housing, and assumptions that are considered are based recapture the essence of what it was when this building was built. Well due to a series of actions carried out in the 50s and 80s led to its deterioration and loss of identity for the materials used and construction solutions, which do not correspond to a characteristic building of the architecture of Galicia.
Rights
Os titulares dos dereitos de propiedade intelectual autorizan a visualización do contido deste traballo a través de Internet, así como a súa reproducción, gravación en soporte informático ou impresión para o seu uso privado e/ou con fins de estudo e de investigación. En nengún caso se permite o uso lucrativo deste documento. Estos dereitos afectan tanto ó resumo do traballo como o seu contido Los titulares de los derechos de propiedad intelectual autorizan la visualización del contenido de este trabajo a través de Internet, así como su repoducción, grabación en soporte informático o impresión para su uso privado o con fines de investigación. En ningún caso se permite el uso lucrativo de este documento. Estos derechos afectan tanto al resumen del trabajo como a su contenido