Proyecto de estudio experimental sobre los beneficios de la implantación de la musicoterapia en la UCI Neonatal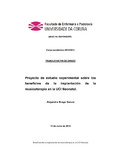 Collections
Title
Proyecto de estudio experimental sobre los beneficios de la implantación de la musicoterapia en la UCI Neonatal
Author(s)
Directors
Rodeño Abelleira, María Ángeles
Date
2014
Center/Dept./Entity
Universidade da Coruña. Facultade de Enfermaría e Podoloxía
Description
Traballo fin de grao (UDC.FEP). Podoloxía. Curso 2013/2014
Abstract
[Resumen] La música, desde tiempos ancestrales, ha demostrado tener una gran influencia sobre los seres humanos, siendo empleada con diferentes propósitos, en la actualidad no es sólo arte, también es una terapia efectiva que se emplea con pacientes autistas, oncológicos, y con recién nacidos entre otros. En este proyecto de estudio experimental y siguiendo una metodología cuantitativa, nos centraremos en los beneficios que se derivan de la musicoterapia a través de su implantación en las UCIS( Unidades de Cuidados Intensivos) neonatales, basándonos en los diferentes estudios que avalan sus efectos positivos sobre la salud de los bebés prematuros, tales como :estabilización de los parámetros vitales :Tensión arterial (TA), frecuencia cardíaca (FC), saturación de O2 (sat.O2) , mejora del estrés y aumento de la adherencia a la lactancia materna etc… Nuestro objetivo será el de comprobar experimentalmente estos efectos y otros muchos, para integrar este demostrado método alternativo en la práctica clínica, ya que creemos firmemente que podría ser establecido de forma simple y económica, aportando a los pacientes grandes ventajas a nivel sanitario, como ya sucede en otros hospitales del mundo.
[Abstract] Music since ancestral times, has proved to have a great influence on humans, being employed with several aims, nowadays it is not just art, it is also an effective therapy that is used with autist and oncological patients, along with newborns between others. In this experimental study project and following a quantitative methodology, we will focus on the benefits that come from music therapy through its establishment in neonatal NICU ( Neonatal Intensive Care Unit), based in different studies that support its positive effects over the preterm infant´s health such as : stabilization of vital signs ( Arterial Pressure, Cardiac frequency, O2 saturation), improves stress and increases the adherence to maternal breastfeeding etc… Our objective will consist on checking experimentally these effects and many others, in order to integrate this demonstrated alternative method in the clinical practice, because we deeply believe that could be established in an easy and economic way, giving patients big advantages in sanitary levels as it already happens in other hospitals around the world.
Keywords
Musicoterapia
Recién nacidos
UCI neonatal
Rights
Os titulares dos dereitos de propiedade intelectual autorizan a visualización do contido deste traballo a través de Internet, así como a súa reproducción, gravación en soporte informático ou impresión para o seu uso privado e/ou con fins de estudo e de investigación. En nengún caso se permite o uso lucrativo deste documento. Estos dereitos afectan tanto ao resumo do traballo como ao seu contido. Los titulares de los derechos de propiedad intelectual autorizan la visualización del contenido de este trabajo a través de Internet, así como su reproducción, grabación en soporte informático o impresión para su uso privado y/o con fines de estudio e investigación. En ningún caso se permite el uso lucrativo de este documento. Estos derechos afectan tanto al resumen del trabajo como a su contenido.