On how "the motion of the stars" changed the language of science : a corpus-based study of deverbal nominalizations in astronomy texts from 1700 to 1900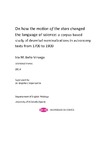 Title
On how "the motion of the stars" changed the language of science : a corpus-based study of deverbal nominalizations in astronomy texts from 1700 to 1900
Author(s)
Directors
Crespo García, Begoña (1969-)
Date
2014
Center/Dept./Entity
Universidade da Coruña. Departamento de Filoloxía Inglesa
Abstract
[Resumen] Esta tesis doctoral supone un análisis sobre las nominalizaciones deverbales formadas por sufijación en textos de astronomía escritos en inglés en los siglos XVIII y XIX. El material de análisis para este estudio fue tomado del Corpus of English Texts on Astronomy (CETA) (Moskowich et al., 2012). El corpus contiene dos textos por década y cada una de las muestras contiene alrededor de 10.000 palabras, lo que hace un total de 400.000 palabras analizables. El objetivo principal de este trabajo es el estudio de las nominalizaciones como marcadores del discurso científico en inglés moderno tardío. Varios cambios sociales que tuvieron lugar a principios de la Europa moderna afectaron gravemente el enfoque científico y esto tuvo un efecto directo en su lenguaje. Para llevar a cabo el análisis, he creado una tipología de las nominalizaciones que tiene en cuenta características formales y funcionales. Se formularon una serie de variables independientes: por un lado, las variables extralingüísticas abarcaron la cronología, el sexo del autor, el lugar de educación del autor y el tipo de texto; el resto de variables lingüísticas abordaron la estructura de las nominalizaciones y sus frases nominales e incluyeron el uso de sufijos, la etimología, los modificadores, las construcciones posesivas, la inclusión de agentes y circunstancias y la función sintáctica. Estas variables se aplicaron primero al número total de nominalizaciones encontradas en el corpus (8.446) y luego a las cuatro tipologías creadas.
[Resumo]Esta tese de doutoramento é unha análise sobre as nominalizacións deverbais formadas por sufixación en textos de astronomía escritos en inglés nos séculos XVIII e XIX. O material corpus para este estudo foi tirado do Corpus of English Texts on Astronomy (CETA) (Moskowich et al., 2012). O corpus contén dous textos por década e cada mostra contén aproximadamente 10.000 palabras, o que fai un total de 400.000 palabras analizábles. O principal obxectivo deste traballo é estudar as nominalizacións como marcadores do discurso científico en inglés moderno tardío. Varios cambios sociais que se produciron en Europa ao comezo da etapa moderna afectaron severamente os enfoques de cara a ciencia e iso tivo un efecto directo sobre a súa linguaxe. Para realizar a análise creei unha tipoloxía de nominalizacións tendo en conta características formais e funcionais. Tamén formulei unha serie de variables independientes: por unha banda, as variables extralinguísticas inclúen cronoloxía, sexo do autor, lugar de educación do autor e tipo de texto; por outra, unha serie de variables intralingüísticas cubren aspectos relacionados coa estrutura das nominalizacións e as súas frases nominais. Estas incluen o uso de sufixos, a etimoloxía, os modificadores empregados, as construcións posessivas, a inclusión de axentes e circunstancias e a función sintáctica. Estas variables foron primeiramente aplicadas ao número total de nominalizacións atopadas no corpus (8.446) e, a continuación, as catro tipoloxías creadas para este estudo.
[Abstract] This doctoral thesis analyzes deverbal nominalizations formed through suffixation in astronomy texts written in English in the eighteenth and nineteenth centuries. The corpus material for this study was taken from the The Corpus of English Texts on Astronomy (CETA) (Moskowich et al., 2012). The corpus contains two texts per decade and each sample text contains around 10,000 words, which makes a total of 400,000 analyzable words. The main aim of this work is to study nominalizations as scientific discourse markers in late Modern English. Several social changes that took place in early Modern Europe affected severely approaches to science and this had a direct effect on its language. To carry out the analysis a typology of nominalizations acknowledging formal and functional features was created and independent variables were formulated: on the one hand, extralinguistic variables included chronology, sex of author, place of education and text-type; on the other hand, intralinguistic variables dealt with the structure of nominalizations and their NPs and included suffix use, etymology, modifiers, possessive constructions, agency and circumstance inclusion and syntactical function. These variables were first applied to the total number of nominalizations found in the corpus (8,446) and then to the four typologies created.
Keywords
Astronomía
Lenguaje
Inglés
Historia
Rights
Os titulares dos dereitos de propiedade intelectual autorizan a visualización do contido desta tese a través de Internet, así como a súa reproducción, gravación en soporte informático ou impresión para o seu uso privado e/ou con fins de estudo e de investigación. En nengún caso se permite o uso lucrativo deste documento. Estos dereitos afectan tanto ó resumo da tese como o seu contido Los titulares de los derechos de propiedad intelectual autorizan la visualización del contenido de esta tesis a través de Internet, así como su repoducción, grabación en soporte informático o impresión para su uso privado o con fines de investigación. En ningún caso se permite el uso lucrativo de este documento. Estos derechos afectan tanto al resumen de la tesis como a su contenido