Sabiduría cifrada en el Siglo de Oro: las enciclopedias de Hieroglyphica y figuraciones alegóricas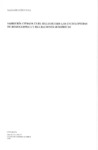 View/Open
Collections
Title
Sabiduría cifrada en el Siglo de Oro: las enciclopedias de Hieroglyphica y figuraciones alegóricas
Author(s)
Date
2008
Citation
López Poza, Sagrario, "Sabiduría cifrada en el Siglo de Oro: las enciclopedias de Hieroglyphica y figuraciones alegóricas". En : Edad de Oro, XXVII (2008), pp.167-200.
Abstract
El artículo se ocupa de las enciclopedias y misceláneas de símbolos y jeroglíficos humanísticos que se produjeron a partir del descubrimiento de los Hieroglyphica de Horapolo en 1419 y de la publicación de la Hypnerotomachia Poliphili (Venecia, 1499). Estas obras siguen siendo hoy imprescindibles para descifrar textos y representaciones pictóricas del Renacimiento y el Barroco que de otro modo no se comprenderían cabalmente.
[Abstract] The article deals with encyclopedias of humanistic symbols and hieroglyphics published from the discovery of Hieroglyphica of Horapollo in 1419 and the publication of Hypnerotomachia Poliphili (Venice, 1499). These works remain today essential to decipher Renaissance and Baroque texts and pictorial representations that otherwise would not be fully understood.
Keywords
Jeroglíficos humanísticos
Humanistic hieroglyphs
Enciclopedias simbólicas
Horapolo
Pierio Valeriano
Hypnerotomachia Poliphili
Sueño de Polifilo
Symbolic encyclopedias
Horapollo
Pierio Valeriano
Hypnerotomachia Poliphili
Poliphilos dream
ISSN
0212-0429