Análisis de la figura del liberado sindical en la prensa digital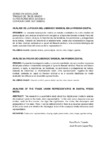 View/Open
Title
Análisis de la figura del liberado sindical en la prensa digital
Alternative Title(s)
Análise da figura do liberado sindical na prensa dixital
Analysis of the trade union representative in digital press media

Author(s)
Directors
López Rey, José A.
Date
2013
Center/Dept./Entity
Universidade da Coruña. Facultade de Socioloxía
Description
Traballo fin de grao (UDC.SOC). Socioloxía. Curso 2012/2013
Abstract
[Resumen] La presente investigación realiza un estudio cuantitativo de cuatro medios de prensa digital para analizar el tratamiento otorgado a la figura del liberado sindical. Para ello se estudia el número, el signo, la importancia, las temáticas, los promotores y protagonistas de la noticia, tratando de determinar si efectivamente existe una representación negativa de la labor sindical, centrada en el papel del liberado sindical y si la corriente ideológica del medio analizado tiene influencia en dicha representación.
[Resumo] A presente investigación realiza un estudo cuantitativo de catro medios de prensa dixital para analizar o tratamento outorgado á figura do liberado sindical. Para iso estúdase o número, o signo, a importancia, as temáticas, os promotores e protagonistas da noticia, tratando de determinar se efectivamente existe unha representación negativa do labor sindical, centrada no papel do liberado sindical e se a corrente ideolóxica do medio analizado ten influencia na devandita representación.
[Abstract] This research is a quantitative study about four digital press media to analyse the treatment given to the trade union representative. To this end, some characteristics are studied, such as the number, the sign, the significance, the topics, the developers and protagonists of the news. Thus, it can be defined whether there is a negative representation of the union work and whether the ideological trend of the analysed media influences such representation.
Keywords
Liberado sindical
Prensa digital
Recorte
Crisis
Imagen
Agenda
Prensa dixital
Crise
Imaxe
Axenda
Trade union representative
Clipping
Digital press media
Image
Agenda setting
Rights
Os titulares dos dereitos de propiedade intelectual autorizan a visualización do contido deste traballo a través de Internet, así como a súa reproducción, gravación en soporte informático ou impresión para o seu uso privado e/ou con fins de estudo e de investigación. En nengún caso se permite o uso lucrativo deste documento. Estos dereitos afectan tanto ó resumo do traballo como o seu contido Los titulares de los derechos de propiedad intelectual autorizan la visualización del contenido de este trabajo a través de Internet, así como su repoducción, grabación en soporte informático o impresión para su uso privado o con fines de investigación. En ningún caso se permite el uso lucrativo de este documento. Estos derechos afectan tanto al resumen del trabajo como a su contenido