Identidad y democracia en el conflicto de Chipre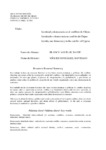 Title
Identidad y democracia en el conflicto de Chipre
Alternative Title(s)
Identidade e democracia no conflito de Chipre
Identity and democracy in the conflict of Cyprus

Author(s)
Directors
Míguez González, Santiago


Date
2013
Center/Dept./Entity
Universidade da Coruña. Facultade de Socioloxía
Description
Traballo fin de grao (UDC.SOC). Socioloxía. Curso 2012/2013
Abstract
[Resumen] Este trabajo incluye un resumen histórico de las bases socioeconómicas y políticas del conflicto chipriota, un ensayo sobre la construcción social del conflicto y las identidades étnico-culturales y/o nacionales, los retos que plantea el proceso de europeización y la globalización y, por último, se analiza como solución política la creación de un Estado organizado como una democracia de consenso.
[Resumo] Este traballo inclúe un resumo histórico das bases socioeconómicas e políticas do conflito chipriota, un ensaio sobre a construción social do conflito e as identidades étnico-culturais e/ou nacionais, os retos que supón o proceso de europeización e globalización e, por último, analízase como solución política a creación dun Estado organizado como unha democracia de consenso.
[Abstract] This essay is about the history, politics and social construction of the Cypriot conflict, about the ethnic cultural and/or national identities, and about effects of globalization. At the end, a consensus democracy is analised as a possible solution.
Keywords
Democracia
Identidad étnica
Identidad cultural
Identidad nacional
Conflicto
Consenso
Construcción social
Relaciones internacionales
Chipre
Identidade étnica
Identidade cultural
Identidade nacional
Conflito
Construción social
Relacións internacionais
Democracy
Ethnic identity
Cultural identity
National identity
Conflict
Consensus
Social construction
International relations
Cyprus
Rights
Os titulares dos dereitos de propiedade intelectual autorizan a visualización do contido deste traballo a través de Internet, así como a súa reproducción, gravación en soporte informático ou impresión para o seu uso privado e/ou con fins de estudo e de investigación. En nengún caso se permite o uso lucrativo deste documento. Estos dereitos afectan tanto ó resumo do traballo como o seu contido Los titulares de los derechos de propiedad intelectual autorizan la visualización del contenido de este trabajo a través de Internet, así como su repoducción, grabación en soporte informático o impresión para su uso privado o con fines de investigación. En ningún caso se permite el uso lucrativo de este documento. Estos derechos afectan tanto al resumen del trabajo como a su contenido
Related items
Showing items related by title, author, creator and subject.
Salgado Rodríguez, Iria Helena

(

2016-09

)

[Resumen] Introducción: El aumento de Trastornos de Conducta Alimentaria (TCA) durante las últimas décadas en occidente evidencia que la interacción del individuo con la cultura y la sociedad juega un papel fundamental en ...

Abad Hermidas, Laura

(

2018

)

[Resumen] El rap nace como instrumento social para dar voz a los estratos más bajos de la sociedad. En sus orígenes, las letras de estas canciones reivindicaban los derechos de quienes las cantaban y del colectivo al que ...

López Fabeiro, Natalia

(

2018-06

)

[Resumen] Introducción: La Disforia de Género se trata del distrés que genera la discordancia entre la identidad de género y el género asignado al nacer. Es decir, aquellos sentimientos de malestar, y las consecuencias ...