Desahucios: sociedad y afectados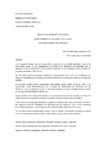 View/Open
Title
Desahucios: sociedad y afectados
Author(s)
Directors
López Rey, José A.
Date
2013
Center/Dept./Entity
Universidade da Coruña. Facultade de Socioloxía
Description
Traballo fin de grao (UDC.SOC). Socioloxía. Curso 2012/2013
Abstract
(Resumen)En el presente trabajo vamos a desarrollar un análisis en una doble vertiente: social y de movimiento social. Así nos plantearemos el estudio de la Plataforma de Afectados por las Hipotecas como movimiento social y sus interconexiones en dos enfoques: local y estatal, con sus particularidades y diferencias. Por otro lado creemos necesario estudiar las consecuencias de la crisis en los hogares y el factor de la pérdida de la misma como determinante de la exclusión social con lo que ello significa.
(Resumo) No presente traballo imos a desenrolar unha análise nunha dobre vertente: social e de movemento social. Plantexámonos así o estudo da "Plataforma de Afectados por las Hipotecas" como movemento social e a súas interconexións en dous enfoques: local e estatal, con as súas particularidades e diferenzas. Doutra banda cremos necesario estudar as consecuencias da crise nos fogares e o factor de perda do mesmo coma determinante da exclusión social con todo o que elo significa.
(Abstract)In this article we are going to develop an analysis in a double way: social and social movement. We began to study the "Plataforma de Afectados por las Hipotecas" like a social movement and its interconnections in two ways: locally and nationality, with their differences. On the other hand we believe that a longer study is needed to know the consequences about the crisis in the homes and the homes' eviction like a key to create social exclusion.
Keywords
Desahucios
Hipotecas
Afectados
Exclusión
Hogar
Culleredo
Desafiuzamentos
Evictions
Mortgages
Affected
Rights
Os titulares dos dereitos de propiedade intelectual autorizan a visualización do contido deste traballo a través de Internet, así como a súa reproducción, gravación en soporte informático ou impresión para o seu uso privado e/ou con fins de estudo e de investigación. En nengún caso se permite o uso lucrativo deste documento. Estos dereitos afectan tanto ó resumo do traballo como o seu contido Los titulares de los derechos de propiedad intelectual autorizan la visualización del contenido de este trabajo a través de Internet, así como su repoducción, grabación en soporte informático o impresión para su uso privado o con fines de investigación. En ningún caso se permite el uso lucrativo de este documento. Estos derechos afectan tanto al resumen del trabajo como a su contenido