A ría como soporte da construcción da periferia urbana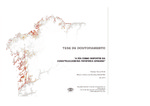 View/Open
Title
A ría como soporte da construcción da periferia urbana
Author(s)
Directors
González-Cebrián Tello, José
Date
2013
Center/Dept./Entity
Universidade da Coruña. Departamento de Proxectos Arquitectónicos e Urbanismo
Abstract
[Resumo] O home contemporáneo faise urbano e litoral, abandonando territorios rurais e interiores. Na Galiza, este proceso -acelerado nas últimas décadas- territorialízase nas terras baixas do litoral das rías.Nos mais abrigados e accesibles emprazamentos litorais dos singulares espazos xeográficos das rías galegas asentáronse poboacións, que continuaron polas augas os camiños da terra, usándoas tamén para a procura do seu sustento. Ca mellora de transportes e peiraos, disemínase a edificación polo territorio co soporte de estradas convencionais, camiños , pistas rurais, e o parcelaria agrícola. As novas vías de alta velocidade -trazadas a unha certa distancia do litoral escapando do compromiso urbano- transforman a inicial tendencia de desenvolvemento centrípeta cara a auga arredor dos peiraos; e tamén a posterior diseminación, con vectores de desenvolvemento tanxentes ó litoral, seguindo os trazados das estradas convencionais. A construción recente destas vías dispersa as actuacións (urbanizacións, equipamentos, dotacións, parques metropolitanos, empresariais, industriais, etc.), e os vectores de desenvolvemento tórnanse centrífugos desde o litoral. A planificación territorial estratéxica e os proxectos de actuación material han de inverter de novo o signo dos vectores, e prestarlle atención ás diferentes ordes de estrutura territorial, e á intervención selectiva nos baleiros con «cousas», e nas «cousas» fronte á auga.
[Resumen] El hombre contemporáneo se hace urbano y litoral, abandonando territorios rurales e interiores. En Galicia, este proceso -acelerado en las últimas décadas- se territorializa en las tierras bajas del litoral de las nas. En los mas abrigados y accesibles emplazamientos litorales de los singulares espacios geográficos de las nas gallegas se asentaron poblaciones, que continuaron por las aguas, los caminos de la tierra, usándolas también para la búsqueda de su sustento. Con la mejora de transportes y muelles, se disemina la edificación por el tenitorio con el soporte de carreteras convencionales, caminos , pistas rurales, y el parcelario agrícola. Las nuevas vías de alta velocidad -trazadas a una cierta distancia del litoral escapando del compromiso urbano- transforman la inicial tendencia de desarrollo centrípeto hacia agua alrededor de los muelles; y también la posterior diseminación, con vectores de desarrollo tangentes al litoral, siguiendo los trazados de las carreteras convencionales. La construcción reciente de estas vías dispersa las actuaciones (urbanizaciones, equipamientos, dotaciones, parques metropolitanos, empresariales, industriales, etc.), y los vectores de desarrollo se tornan centrífugos desde lo litoral. La planificación territorial estratégica y los proyectos de actuación material han de invertir de nuevo el signo de los vectores, y prestar1e atención a los diferentes órdenes de estructura tenitorial, y a la intervención selectiva en los vacíos con "cosas", y en las "cosas" frente al agua.
[Abstract] The contemporary man becomes urban and coastal, leaving rural and inner territories. In Galicia, this process -accelerated in the last decadesis defined territorially in the low earths of the seaboard of the estuaries. In the most sheltered and accessible coastal locations of these Galicia unique geographical spaces population setUed populations, who kept going throughout the waters, the ground paths, using them also for the search of livelihood. The improvement of transport and docks meant the dissemination of the building areas over the territory with the support of conventional highways, roads, rural roads, and agricultural parcel. The new roads of high speed -drawn at a certain distance of the seaboard to escape from the urban influence- transform initial centripetal development trend towards water around the docks; and also further dissemination, with vectors tangent to coastal development, following the paths of conventional roads. The recent construction of these roads disperses the developments (urbanizations, endowments, metropolitan parks, business parks, industry parks, etc.) and developing vectors tum centrifugal from the coast. Strategic territorial planning and execution projects should invert the vectors sign and pay more attention to different orders of territory structure, and to the selective intervention in the emptiness with "things", and in the "things" located seafront.
Keywords
Urbanismo
Litoral
Galicia
Ordenación
Rights
Os titulares dos dereitos de propiedade intelectual autorizan a visualización do contido desta tese a través de Internet, así como a súa reproducción, gravación en soporte informático ou impresión para o seu uso privado e/ou con fins de estudo e de investigación. En nengún caso se permite o uso lucrativo deste documento. Estos dereitos afectan tanto ó resumo da tese como o seu contido Los titulares de los derechos de propiedad intelectual autorizan la visualización del contenido de esta tesis a través de Internet, así como su repoducción, grabación en soporte informático o impresión para su uso privado o con fines de investigación. En ningún caso se permite el uso lucrativo de este documento. Estos derechos afectan tanto al resumen de la tesis como a su contenido