Seguimiento de la salud de las personas que participaron en la limpieza del vertido del buque "Prestige" siete años después del accidente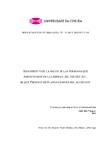 View/Open
Title
Seguimiento de la salud de las personas que participaron en la limpieza del vertido del buque "Prestige" siete años después del accidente
Author(s)
Directors
Pásaro, Eduardo
Laffon Lage, Blanca

Date
2013
Center/Dept./Entity
Universidade da Coruña. Departamento de Bioloxía Celular e Molecular
Abstract
[Resumen] El accidente del buque Prestige en noviembre de 2002, representó el mayor desastre ambiental ocurrido en España y una de las mayores catástrofes en la historia de la navegación europea. Se vertieron 67.000 toneladas de petróleo con componentes altamente tóxicos para la salud humana. Como consecuencia, un gran número de personas colaboraron en las tareas de limpieza del litoral contaminado, resultando potencialmente expuestas al fuel. Estudios realizados en el momento de la exposición mostraron alteraciones a nivel genotóxico, endocrino e inmunotóxico en dichos individuos, por lo que el objetivo de este trabajo consistió en la determinación de la posible persistencia de esas alteraciones siete años más tarde. Se analizó una población compuesta por 54 pescadores y mariscadores procedentes de localidades gallegas intensamente afectadas por el vertido, que habían colaborado en su limpieza durante más de dos meses, y se comparó con un grupo de 50 controles de características similares. Se evaluaron como biomarcadores de genotoxicidad el ensayo del cometa, el test de micronúcleos y el ensayo de mutación en el receptor de las células T; como biomarcadores endocrinos la prolactina y el cortisol séricos, y como biomarcadores de inmunotoxicidad las subpoblaciones linfocitarias, diversas citoquinas circulantes, la neopterina y los productos del metabolismo del triptófano. Los resultados obtenidos mostraron que los parámetros genotóxicos, la prolactina y la mayoría de parámetros inmunológicos retornaron a los valores basales en los individuos expuestos. Sin embargo, se observaron alteraciones en los niveles de cortisol, kinurenina, y porcentaje de linfocitos CD16+56+ que sugieren la necesidad de realizar un seguimiento de estos individuos para la detección temprana de problemas de salud que pudieran estar relacionados con el sistema endocrino o inmunológico.
[Resumo] O accidente do buque Prestige en novembro de 2002, representou o maior desastre ambiental ocorrido en España e unha das maiores catástrofes na historia da navegación europea. Vertéronse 67.000 toneladas de petróleo con compoñentes altamente tóxicos para a saúde humana. Como consecuencia, un gran número de persoas colaboraron nas tarefas de limpeza do litoral contaminado, resultando potencialmente expostas ao fuel. Estudos realizados no momento da exposición mostraron alteracións a nivel xenotóxico, endocrino e inmunotóxico en devanditos individuos, polo que o obxectivo deste traballo consistiu na determinación da posible persistencia desas alteracións sete anos máis tarde. Analizouse unha poboación composta por 54 pescadores e mariscadores procedentes de localidades galegas intensamente afectadas polo vertido, que colaboraran na súa limpeza durante máis de dous meses, e comparouse cun grupo de 50 controis de características similares. Avaliáronse como biomarcadores de xenotoxicidade o ensaio do cometa, o test de micronúcleos e o ensaio de mutación no receptor das células T; como biomarcadores endocrinos a prolactina e o cortisol séricos, e como biomarcadores de inmunotoxicidade as subpoboacións linfocitarias, diversas citoquinas circulantes, a neopterina e os produtos do metabolismo do triptófano. Os resultados obtidos mostraron que os parámetros xenotóxicos, a prolactina e a maioría de parámetros inmunolóxicos retornaran aos valores basais nos individuos expostos. Con todo, observáronse alteracións nos niveis de cortisol, kinurenina e porcentaxe de linfocitos CD16+56+ que suxiren a necesidade de realizar un seguimento destes individuos para a detección temperá de problemas de saúde que puidesen estar relacionados co sistema endocrino ou inmunolóxico.
[Abstract] Prestige accident in November 2002 was the highest environmental disaster occurred in Spain and one of the top catastrophes in the history of European navigation. Sixty-seven thousand tones of oil containing compounds extremely toxic for human health were spilled. As a consequence, a huge number of people collaborated in the cleanup of the polluted shore, being potentially exposed to the oil. Studies carried out at the moment of exposure reported genotoxic, endocrine and immunotoxic alterations in those individuals, so the objective of this work was to determine the possible persistence of those alterations seven years later. A population composed of 54 fishermen from Galician villages hardly affected by the spill, who had collaborated in the cleanup for at least 2 months, was analysed and compared to a group of 50 controls with similar characteristics. We evaluated comet assay, micronucleus test and T- cell receptor mutation assay as genotoxicity biomarkers; serum prolactin and cortisol as endocrine biomarkers and lymphocyte subsets, several circulating cytokines, neopterin, and tryptophan degradation products as immunotoxicity biomarkers. The results obtained showed that genotoxicity parameters, prolactin and most immunological parameters returned to basal levels in the exposed individuals. Still, alterations observed in the levels of cortisol, kynurenine and percentage of CD16+56+ lymphocytes suggest the need to monitor these individuals for early detection of health outcomes related to endocrine or immunological systems.
Keywords
Prestige (barco)
Toxicología
Rights
Os titulares dos dereitos de propiedade intelectual autorizan a visualización do contido desta tese a través de Internet, así como a súa reproducción, gravación en soporte informático ou impresión para o seu uso privado e/ou con fins de estudo e de investigación. En nengún caso se permite o uso lucrativo deste documento. Estos dereitos afectan tanto ó resumo da tese como o seu contido Los titulares de los derechos de propiedad intelectual autorizan la visualización del contenido de esta tesis a través de Internet, así como su repoducción, grabación en soporte informático o impresión para su uso privado o con fines de investigación. En ningún caso se permite el uso lucrativo de este documento. Estos derechos afectan tanto al resumen de la tesis como a su contenido